Photovoltaic potential and solar resource maps of Canada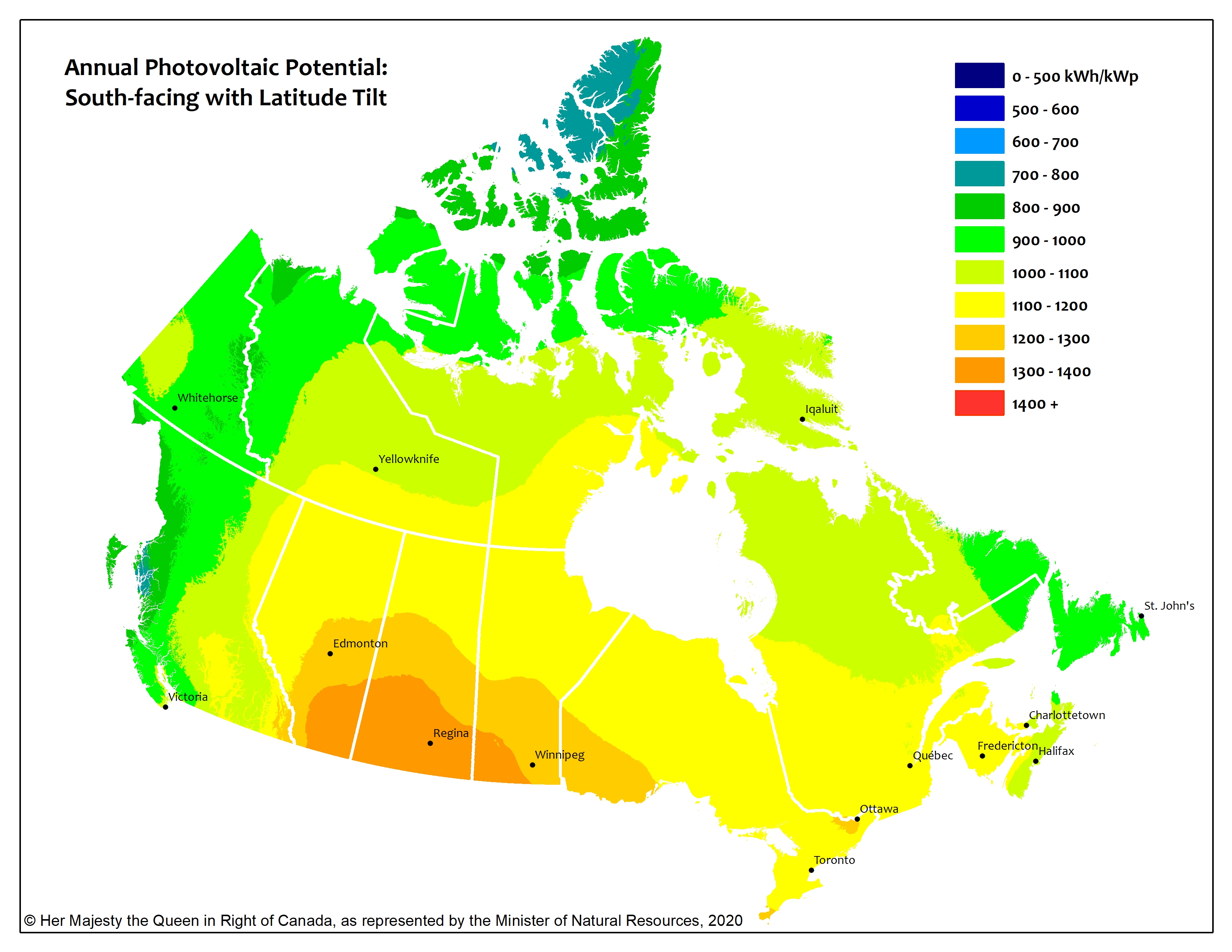 This web mapping application gives estimates of photovoltaic potential (in kWh/kWp) and of the mean daily global insolation (in MJ/m2 and in kWh/m2) for any location in Canada on a 60 arc seconds ~2 km grid.
The photovoltaic (PV) potential represents the expected lifetime average electricity production (in kWh) produced per kilowatt of installed photovoltaic DC capacity rated at Standard Test Conditions (STC) for grid-connected PV systems without batteries.
The maps are presented for each month and for the entire year, for six different PV array orientations: a sun-tracking orientation, a horizontal orientation and four fixed South-facing orientations with latitude, vertical (90°) and latitude ± 15° tilts (see figure). Data can also be obtained directly for individual municipalities from a list of over 3500 municipalities or downloaded for all municipalities at once.
These maps and datasets were developed by the Canadian Forest Service (Great Lakes Forestry Centre) in collaboration with the CanmetENERGY Renewable Energy Integration group and the Federal Geospatial Platform. Insolation data were provided by Environment and Climate Change Canada. For additional information about the methodology used to develop these maps, visit our methodology and uncertainty page.
Any reproduction or public use of these maps or datasets should mention "© Her Majesty the Queen in Right of Canada, as represented by the Minister of Natural Resources, 2020". A high resolution image of the annual photovoltaic potential map for the South-facing, latitude tilt orientation can be downloaded here.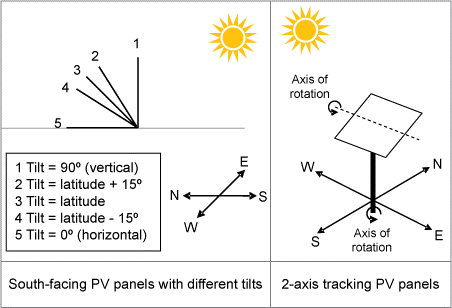 Text Version

Illustration of different photovoltaic array orientations