Canada's Electric Reliability Framework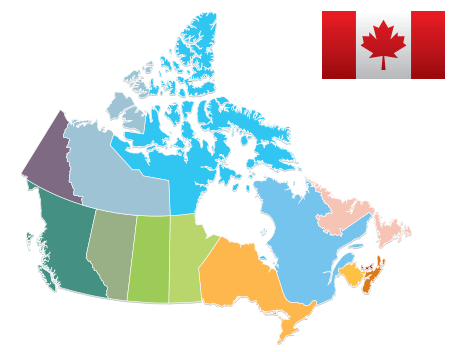 A product of the Energy Mines Ministers' Conference
Canada's Fast Facts (2014)
Installed Capacity
140 GW
Annual Generation
639 TWh
Annual Consumption
550 TWh
Annual Exports

Footnote

1
68.4 TWh
Annual Imports

Footnote

1
8.7 TWh
Major Transmission Connections with the United States
34 (≥ 100 kV)
Major Interprovincial Connections
33 (≥ 69 kV)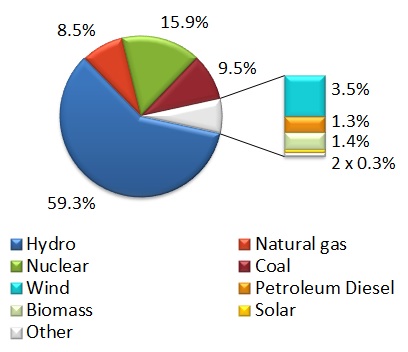 Canada's electricity supply generation mix varies significantly among Canada's provinces and territories (see links above). Canada's future Energy Supply and Demand Projections are reported by the Canada Energy Regulator.
Key Federal Organizations
The Canada Energy Regulator (CER, formerly the National Energy Board) is Canada's energy and safety regulator and it operates under a variety of acts and regulations. It has jurisdiction over the construction, operation and abandonment of international power lines (IPL), between Canada and the United States, and designated interprovincial power lines. The CER accepts standards adopted or approved by a provincial authority or a standards development authority as defined under the General Order MO-036-2012 and Amending Orders on electricity reliability.
Natural Resources Canada (NRCan) is the lead federal department responsible for monitoring, assessing and providing advice and guidance to the Governor in Council, as well as other government stakeholders on any energy related emergencies. The Minister of Natural Resources has a mandate to protect Canada's energy security; encourage energy efficiency and conservation; and bring cleaner, renewable energy onto a smarter electricity grid.
Electricity Reliability Frameworks in Canada
In Canada, regulatory oversight of electric reliability rests primarily within the jurisdiction of the provinces and territories. Links to each jurisdiction are provided at the top of the page. Federal jurisdiction is limited to the permitting of international exports and the construction and operation of international power lines and designated interprovincial power lines by the CER.
The reliability of the bulk electric system is based on its ability to continuously balance electricity supply and demand in real time.
Canada, Mexico and the United States share a highly integrated electrical transmission network which is referred to as the North American Bulk Electric System (BES).
As described in the report After the Blackout: Implementation of Mandatory Electric Reliability Standards in Canada, in response to the 2003 North American blackout, Canada and the United States have worked together to harmonize the implementation of mandatory reliability standards as developed by a single Electric Reliability Organization (ERO). Over 100 standards have been developed which cover all aspects of reliability including: transmission operations, resources and demand balancing, facility design and maintenance, system planning, communications, training, cyber and physical security, and emergency preparedness.
The North American Electric Reliability Corporation (NERC) was certified as the ERO for the United States in 2006. In Canada, recognition of NERC and its regional entities as the ERO, adoption of NERC Reliability Standards, and the establishment of measures to monitor and enforce the standards are done at the provincial level. Each Canadian jurisdiction with mandatory reliability standards has put in place processes to consider the adoption or modification of NERC standards. The standards are mandatory and enforceable, or are in the process of becoming mandatory and enforceable in almost all provinces connected to the BES.
See the top of the page for links to a province or territory.