Types of zero-emission vehicles
Thinking of buying a vehicle? Make it zero emission!
Whether you've already decided your next vehicle will be a zero-emission vehicle or you're unsure if it's a good fit for your lifestyle, there are options available to meet your needs. Zero-emission vehicles (ZEVs) get you from home to work and everywhere in between while reducing fuel costs by up to 75% and dramatically reducing tailpipe emissions.
A ZEV is a vehicle that either produces no tailpipe emissions or has the potential to produce no emissions, for example, an electric vehicle. Some ZEVs include a conventional internal combustion engine but must also be able to operate without having to use it.
There are three types of ZEVs on the market:
battery-electric (BEV)
plug-in hybrid electric (PHEV)
hydrogen fuel cell (FCV)
Each has its benefits, and many qualify for government incentives.
BEVs use electric motors that draw electricity from on-board rechargeable batteries. They are the most fuel-efficient vehicles available. BEVs produce no tailpipe emissions.
These types of vehicles could be ideal for someone who wants to dramatically reduce fuel costs, greenhouse gas emissions, and vehicle maintenance expenses.
Did you know?
An electric motor has instant torque, which is well suited for a fun, smooth, and quiet drive!
Video: Battery-electric vehicles
PHEVs have rechargeable batteries and gas engines, so you have the flexibility of charging at home, or filling up at a conventional gas station. When operating in electric-only mode, PHEVs produce no tailpipe emissions.
This type of vehicle could be ideal for someone who drives long distances and wants to transition to a BEV in the future.
Video: Plug-in hybrid electric vehicles
Hydrogen fuel cell vehicles (FCVs)
FCVs use hydrogen to power the electric motor that propels the vehicle. FCVs emit water vapour and warm air only—they produce no tailpipe emissions.
Video: Hydrogen fuel cell vehicles
To learn more about zero-emission technology, visit Buying an electric vehicle.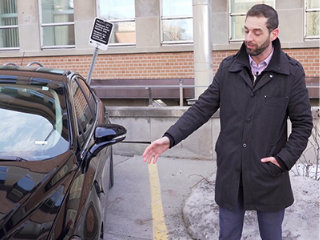 Want to learn more about electric vehicles?
Are all electric vehicles truly green? How reliable are they, really? How do you charge them? What's the difference between an EV and a ZEV? Check out NRCan's Simply Science three-part video series about ZEVs.
Watch Understanding Zero-Emission Vehicles (ZEV Series – Part 1)
Looking for an electric vehicle charging or hydrogen refuelling station?