Energy efficiency for the home office
The office can be just about anywhere these days. Whether you're working from the kitchen, couch or basement, ENERGY STAR is there to help get the job done – efficiently.
—
Remote teamwork comes with many challenges, but energy use doesn't have to be one of them. Saving energy in your home office is simple if your workplace already has a plan in place to purchase only energy-efficient equipment. If that's the case, choosing ENERGY STAR® certified office equipment is a no-brainer. Certified equipment gets the job done more efficiently through special power-saving features and technology. ENERGY STAR offers a wide variety of office equipment, suitable to support any type of remote work.
Computers
Be equipped for success with ENERGY STAR certified computers. From desktops, laptops, workstations and more, ENERGY STAR certifies a variety of computers that use 25 to 40% less energy, on average, than standard models.
Pro Tip: If possible, consider purchasing notebooks or laptops, instead of desktops. They're more energy efficient due to their size and portability.
Monitors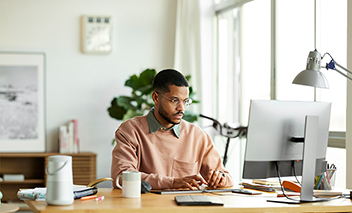 Pair the ENERGY STAR certified computer with a certified monitor. Certified models use 7% less energy, on average, compared to standard models. They also feature automatic brightness control functions, which means they'll automatically save power as they turn off when they're not being used.
Imaging equipment
Choose ENERGY STAR certified imaging equipment for all your at-home printing, scanning or photocopying needs. Certified models feature efficient power supplies designed to help you save up to 35% more energy than with standard models. They also limit the use of hazardous substances such as lead, mercury and cadmium so your work environment remains safe and healthy.
Internet phones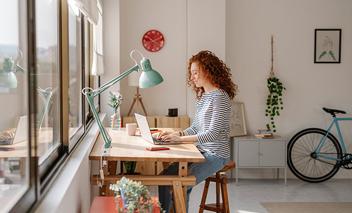 There are two main differences between Voice over Internet Protocol (VoIP) phones, or internet phones, and traditional phones. The first is that internet phones will work no matter where you are, as long as you have internet connection. The second is that you don't need a phone to make calls, you can do it through an app on your computer. ENERGY STAR certified internet phones save up to 40% more energy compared to standard models. They can help you streamline your business with:
A seamless, easy set up using existing internet connections,
Virtual phone numbers for you and your employees,
Wide availability and a variety of devices, and,
Simple integration with other software, including older technology.
Learn more and connect with us
Looking for more tips on energy efficiency? Follow ENERGY STAR Canada on Twitter, Facebook, Pinterest and LinkedIn to maximize your energy savings and get the latest on energy-efficient products.