Electric vehicle chargers: the basics
With public interest and demand for electric vehicles (EVs) rapidly growing, it's important to understand how to "fuel up" these vehicles: EV chargers. Here's what you need to know now about charging at home and the benefits for your business.
—
Going all-in with electric vehicles (EVs) is a key part of transitioning Canadian transportation to a net-zero emissions future. It's one reason why the Government of Canada has set an ambitious federal target that by 2040, 100% of light-duty vehicle sales will be zero-emission vehicles. As auto manufacturers produce more EVs and new models come out every year, the EV charging infrastructure has to grow as well to achieve this goal. With so many charging options available in Canada, it's time to cut through the noise to help you better understand the different types of chargers, the benefits of charging at home, and the opportunities that chargers can provide for businesses. Here's what you need to know about EV chargers.
About EV chargers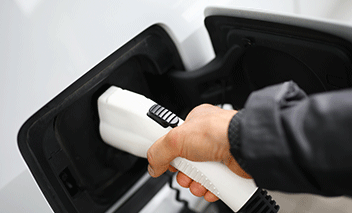 Let's start with the basics. EV chargers deliver energy to both all-electric vehicles and plug-in hybrid electric vehicles. There are two main types of EV chargers, alternating current (AC) chargers and direct current (DC) chargers. AC chargers provide alternating-current electricity to the vehicle and come in Level 1 and Level 2 chargers. DC chargers, also known as fast chargers, are a Level 3 charger that provides direct current electricity to the vehicle.
Level 1 chargers: slowest
This type of AC charger is included in the purchase of your EV and provides 3 to 8 kilometers of range per hour of charging time, making it the slowest of these three options. They require only a standard 120 V wall outlet. Since they are so accessible, Level 1 chargers are typically used at home.
Level 2 chargers: mid-range
This is a faster AC charger that provides 16 to 97 kilometers of range per hour of charging time depending on the type of vehicle. These chargers require a 208 or 240 V wall outlet, which is the same used for major power appliances like dryers, ovens and air conditioners. You can find Level 2 chargers in homes, businesses and public places.
Level 3 chargers: fastest
Level 3 chargers are a type of DC charger that provides the fastest charging time. They're typically found in public places and businesses. ENERGY STAR® certified Level 3 chargers are expected to hit the market soon - stay tuned for even more energy saving opportunities!
The ENERGY STAR benefit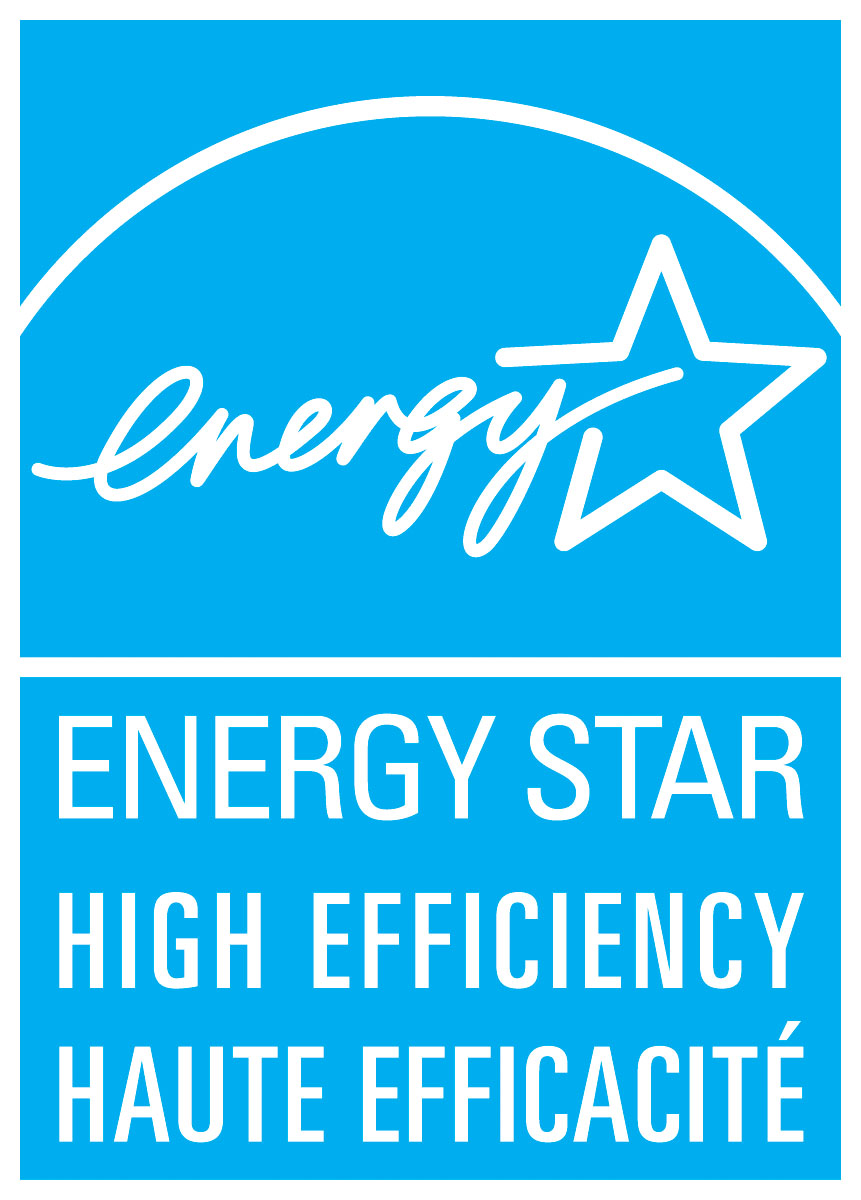 ENERGY STAR certified models use, on average, 40% less energy while in standby mode than standard models. For context, over the lifetime of a charger it will be in standby mode about 85% of the time. As a result, using an ENERGY STAR model can lead to considerable energy savings for both home and business owners.
ENERGY STAR certified EV chargers are also safety tested and certified. This is important to note, as there are a significant number of EV chargers for sale in North America not on the list that have a counterfeit safety label or are an outright counterfeit of a known brand. Using non-safety certified chargers could lead to injuries or property damage. By choosing an ENERGY STAR certified EV charger you can rest assured that it has been tested for safety by nationally recognized testing labs and has earned the safety certification.
You can begin your search with the ENERGY STAR product finder tool to find and compare EV charger models. Remember to consult the rebates and incentives directory to find any offers available in your area.
EV chargers at home
If you're already an EV owner or just starting to think of making the investment, you'll want to become familiar with the chargers available. Before you decide which one is right, ask yourself these questions:
Is my parking space in a garage or is it outdoors? If your parking space is outdoors, an outdoor rating for your charger is important.
How much do I drive? This question can help you establish whether you need a Level 1 or Level 2 charger in your home. If you drive frequently, a Level 2 charger might be preferable. The average Canadian drives approximately 20,000 kilometers per year, or about 55 kilometers per day.
Is the charger safety certified? It's worth repeating, chargers without the safety certification can lead to injury or property damage.
Do I want a portable charger or a wall-mounted one? Some chargers can be plugged directly into a standard wall outlet, while others need a 240 V outlet. The latter has to be installed by a certified electrician, which might cost more initially but results in faster charging times.
How can a 'smart charger' benefit me? Some chargers come with Wi-Fi technology that allow you to monitor and program your power use remotely.
Having an EV charger at home has many benefits, especially when it comes to convenience. That's why over 80% of EV owners charge at home. Similar to charging your cell phone overnight, you can plug in your vehicle, then 'set it and forget it' until the morning. You'll head out with a fully charged vehicle and peace of mind.
EV chargers and your business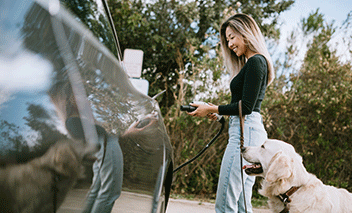 For business owners, the great thing about EV chargers is that they can be installed just about anywhere: from malls and parking lots to libraries and underground garages. An EV charger can be a great addition and may even improve your bottom line by bringing in additional business and attracting new potential customers. By choosing an ENERGY STAR certified EV charger for your business, you can save energy while providing clients with a green benefit. Here are a few other ways chargers are good for business:
Chargers can attract clients and help support employees who work at your facilities. To help manage the costs of installing EV chargers, Natural Resources Canada's Zero Emission Vehicle Infrastructure Program provides financial support for Level 2 chargers and above;
They allow customers and clients to shop or browse while they charge their cars; and,
Installing chargers can also help show a corporate commitment to sustainability and green living.
Learn more and connect with us
Looking for more tips on energy efficiency? Follow ENERGY STAR Canada on Twitter, Facebook, Pinterest and LinkedIn to maximize your energy savings and get the latest on energy-efficient products.