Residential furnaces
Buy ENERGY STAR® to save you money!
An ENERGY STAR certified forced-air furnace, fuelled by gas uses 6% less energy, fuelled by oil uses 9% less energy, on average, than a standard model. Space heating represents 61% of your home energy use and offers the most potential for cutting your energy bill. Saving energy saves money and reduces your carbon footprint.
Key features
High-efficiency blower motors or fans that modify their speed to meet the air distribution needs rather than cycle on and off constantly.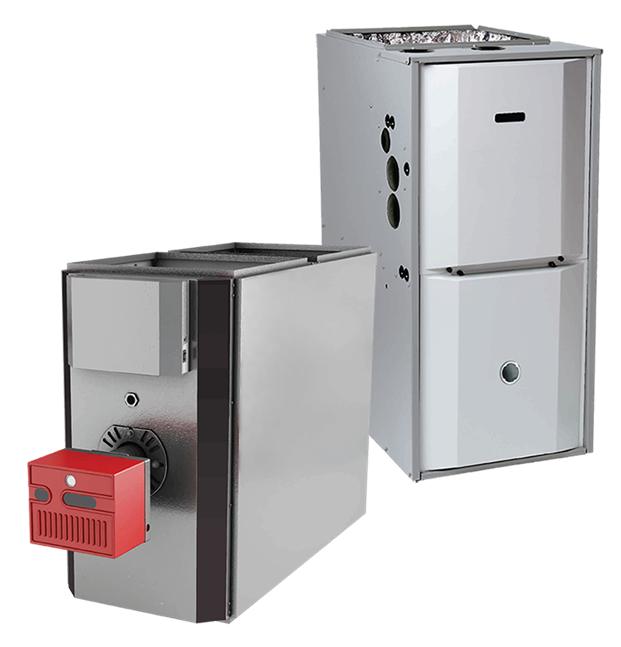 Start your research using the ENERGY STAR Product Finder tool to find and compare certified furnaces. (NOTE: you will be redirected to the US ENERGY STAR website.)
Helpful tips
When buying a new furnace, you should always get at least 3 separate quotes and ask your contractor to calculate the heat requirements for your home to make sure your furnace is sized properly.
Hire a licensed heating contractor to regularly inspect your unit.
Clean or replace the air filter in your furnace regularly (look at your owner's manual for the most precise information).
Chimney maintenance, all furnaces produce combustion gases that must be vented outside your home. Occasional inspection of the chimney is required.
Consult our "Heating with Gas" brochure for detailed information.
What's in a label?
Furnaces in Canada can have two labels:
The ENERGY STAR symbol means the model is highly energy efficient.
The voluntary EnerGuide label shows the model's energy consumption and how it compares to similar models. Learn more about EnerGuide labels for furnaces.
The ENERGY STAR Promise
All ENERGY STAR certified products are tested to meet strict efficiency specifications and are certified by an independent third party. They perform the same as or better than standard products without compromising performance in any way.
Regulations set the energy efficiency minimum
Gas, oil and electric furnaces are subject to Canada's Energy Efficiency Regulations, which set a minimum performance standard for their energy efficiency. Find details in the Guide to the Regulations.
Chimney maintenance
Occasional inspection required
All furnaces produce combustion gases that must be vented outside your home. Although today's high-efficiency furnaces can be vented via PVC or ABS plastic pipes directly through walls, most conventional models must be vented through chimneys.
Unlike fireplace chimneys, furnace chimneys rarely need cleaning. That is not to say these units are maintenance free. They do require occasional inspection. Flue gas condensation can damage the chimney's interior wall, particularly if your chimney is on an outside wall where it is exposed to cold air.
Check your furnace chimney by inserting a mirror into the cleanout opening at its base. Look for:
white, powdery residue
flaking bricks
crumbling mortar joints
wet patches
damaged flue liners
water runoff
If you find signs of any of these problems, have your entire heating system—including the chimney—checked by a professional.
Dealing with chimney condensation
Water in your chimney could indicate a potentially serious condensation problem. Install an approved metal liner to reduce the size of the chimney flue. Exhaust gases will travel quicker up the vent and have less chance of cooling as a result. Metal liners also warm quickly, further reducing the likelihood of condensation.
The Underwriters' Laboratories of Canada (ULC) specifies different liner requirements for gas- and oil-fired furnaces. Contact your local utility or provincial/territorial technical authority for specific advice.
---
The ENERGY STAR name and symbol are trademarks registered in Canada by the United States Environmental Protection Agency and are administered and promoted by Natural Resources Canada.