Decorative light strings
ENERGY STAR certified LED (light emitting diode) decorative light strings use 75% less energy, on average, than conventional incandescent light strings. As a fact, the amount of electricity consumed by just one 7-watt incandescent bulb could power 140 LEDs — enough to light two 7.3-meter (24-foot) strings. Saving energy saves money and reduces your carbon footprint.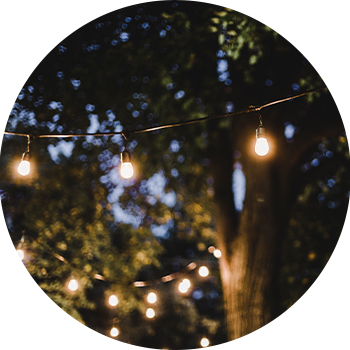 Key features
Last up to 10 times longer, meaning fewer replacements; and come with a three-year warranty.
More durable and shock-resistant than incandescent light strings.
Cool to the touch, which reduces the risk of fire.
Dimming and colour shifting options on some models.
Look for the ENERGY STAR symbol
All ENERGY STAR certified products are tested to meet strict efficiency specifications and are certified by an independent third party. They perform the same as or better than standard products without compromising performance in any way.
Start your research using the ENERGY STAR Product Finder tool to find and compare certified decorative light strings (You will be redirected to the U.S. ENERGY STAR website).
Helpful tips
Consider buying single-colour LED lights. LED strings in a single colour save even more energy than multi-colored LEDs – using up to 90% less than incandescent bulbs.

Never connect LED to incandescent light strings. This can pose a safety hazard and also reduce the life of the LEDs.

For optimum performance put your light strings on a timer, or purchase certified products with a built-in timer.

When matching various white LED strings, pay extra attention to the colour temperature ensure you keep a consistent look.
Connect with us
Follow us on any of our social media channels for energy-efficient tips, rebates, giveaways and much more.
---
The ENERGY STAR name and symbol are trademarks registered in Canada by the United States Environmental Protection Agency and are administered and promoted by Natural Resources Canada.