Set-top boxes
ENERGY STAR® certified set-top boxes (STBs) use up to 25% less energy, on average, than standard models. STBs decode signals from cable, satellite or Internet service providers. Most models offer digital video recording (DVR/PVR) and high-definition resolution display. Thin-client STBs receive content over a home network from another STB, but cannot interface directly with your service provider.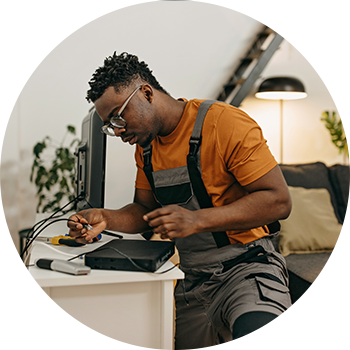 Consumers receive STBs from their service providers most of the time, instead of purchasing them at retail stores. So, when you are deciding on a cable or satellite service, be sure to ask the service provider for an ENERGY STAR certified STB. If you're shopping for an STB yourself, make sure to buy ENERGY STAR.
If you currently have cable or satellite service, check with your service provider to find out what, if any, upgrade options are available. ENERGY STAR Canada communications service providers may be able to provide newly certified boxes as part of your service.
The ENERGY STAR Promise
All ENERGY STAR certified products are tested to meet strict efficiency specifications and are certified by an independent third party. They perform the same as or better than standard products without compromising performance in any way.
Start your research using the ENERGY STAR Product Finder tool to find and compare certified set-top boxes. (You will be redirected to the U.S. ENERGY STAR website.)
Why should you choose ENERGY STAR?
Reduce your at-home energy consumption
Keep your home comfortable
Reduce your carbon footprint
How to use your set-top box efficiently
You only need one higher energy-using set-top box that interfaces with an external source. Use thin-client STBs for additional televisions in your home to increase your energy savings.

Households can experience significant energy savings through the deployment of multi-room thin-client devices in homes that are currently served by two or three high-power STBs with DVR functionality. This multi-room architecture allows for all but one power-hungry DVR to be removed from every home. For a home with three televisions, STB energy savings can be up to 30% versus having one DVR per television.

Ask your TV service provider to turn on power-saving features such as "light-sleep" or "deep-sleep" that put the box into lower power modes during periods of inactivity.

Give your energy bill a vacation! If you're going on vacation, take a few minutes before you leave to unplug your STB(s) to reduce energy use.

Use an advanced power strip or "smart" power bar. Plug the TV into the master receptacle and plug other devices such as your STB into the "slave" receptacles. Turning off the TV cuts power to the other devices too, automatically saving energy and reducing your electricity costs.
Regulations set the energy efficiency minimum
Digital television adapters (which allow you to receive over-the-air digital signals and convert them to watch on your analogue TV) are subject to Canada's Energy Efficiency Regulations, which set a minimum performance standard for their energy efficiency. Find details in the Guide to the Regulations.
Related Blog Posts
Connect with us
Follow us on any of our social media channels for energy-efficient tips, rebates, giveaways and much more.
---
The ENERGY STAR name and symbol are trademarks registered in Canada by the United States Environmental Protection Agency and are administered and promoted by Natural Resources Canada.