Ceiling fans
An ENERGY STAR certified ceiling fan with lights uses 60% less energy, on average, than a standard model. Ceiling fans that have earned the ENERGY STAR Most Efficient designation are the best of the best – they'll save you more energy than standard models. Saving energy saves money and reduces your carbon footprint.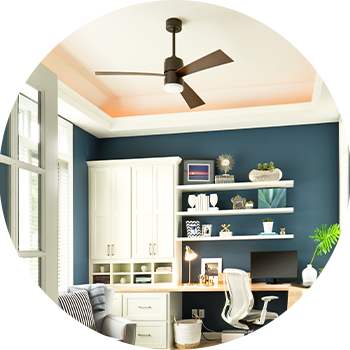 Key features
Use improved motors and blade designs.
Feature the ability to reverse the motor and airflow direction, allowing you to operate the fan year-round.
Non-lighting component(s) are warrantied for at least three years.
Some ENERGY STAR certified ceiling fans offer connected functionality, so you can control it with your smartphone or voice assistant!
The ENERGY STAR Promise
All ENERGY STAR certified products are tested to meet strict efficiency specifications and are certified by an independent third party. They perform the same as or better than standard products without compromising performance in any way.
Start your research using the ENERGY STAR Product Finder to find and compare certified ceiling fans (You will be redirected to the U.S. ENERGY STAR website).
Helpful tips
Switch it off when you leave! Fans don't actually cool a room—they cool the occupants by circulating air. So turn fans and lights off on your way out and reap the savings.

Combine fans and air conditioners to further reduce your energy bills. Set your thermostat two degrees higher and use ceiling fans to circulate cool air. This can reduce your air conditioning costs by 14%.

If your ENERGY STAR certified ceiling fan doesn't include lighting and you want to add it, be sure to purchase an ENERGY STAR certified light kit. ENERGY STAR certified lighting is efficient and long lasting, reducing the need for bulb changes.
Regulations set the energy efficiency minimum
Ceiling fans are subject to Canada's Energy Efficiency Regulations, which set a minimum performance standard for their energy efficiency. Find details in the Guide to the Regulations.
Connect with us
Follow us on any of our social media channels for energy-efficient tips, rebates, giveaways and much more.
---
The ENERGY STAR name and symbol are trademarks registered in Canada by the United States Environmental Protection Agency and are administered and promoted by Natural Resources Canada.