Air purifiers
Room air purifiers (also known as "room air cleaners") are portable, electric appliances that remove fine particles and pollutants from indoor air. These contaminants can affect our health and come from various sources, such as dust, cleaning products, second-hand smoke, building materials, and consumer products. These appliances have the potential to improve air quality and provide health benefits.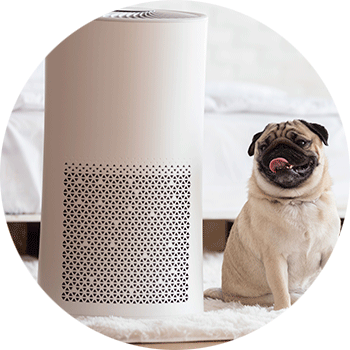 A standard room air purifier, operating continuously, uses approximately 450 kWh of electricity per year. That's more energy than some new refrigerators require! An ENERGY STAR® certified room air purifier uses 25% less energy, on average, compared to a standard model. Saving energy saves money and reduces your carbon footprint.
Benefits of ENERGY STAR certified air purifiers
Those with a clock or remote control consume fewer than two watts while in standby mode.
The ENERGY STAR Promise
All ENERGY STAR certified products are tested to meet strict efficiency specifications and are certified by an independent third party. They perform the same as or better than standard products without compromising performance in any way.
Start your research using the ENERGY STAR Product Finder tool to find and compare certified air purifiers (You will be redirected to the U.S. ENERGY STAR website).
Why should you choose ENERGY STAR?
Reduce your at-home energy consumption
Keep your home comfortable
Reduce your carbon footprint
Tips for choosing an energy efficient air purifier
Buy the right size! Larger models use more energy, so purchase one that is appropriately sized for the room.

Look for the "Clean Air Delivery Rate" (CADR). This measures how quickly a unit delivers filtered air and can be used to measure the performance of a room air purifier. The higher the CADR, the more quickly the room air purifier filters the air.

Remember, the CADR is calculated based on an 8-foot ceiling. If you have higher ceilings, you may want to select a portable air cleaner with a higher CADR.
How to use your air purifier efficiently
When choosing a spot for your air purifier, make sure to place it Place the room air cleaner according to the manufacturer's recommendations. Tabletop and wall-mounted models in particular usually have special instructions for optimum efficiency.
Portable Air Cleaner Sizing for Particle Removal

| | | | | | | |
| --- | --- | --- | --- | --- | --- | --- |
| Room area in square meters (square feet) | 9.3 (100) | 18.6 (200) | 27.9 (300) | 37.2 (400) | 46.5 (500) | 55.7 (600) |
| Minimum CADR (cfm) | 65 | 130 | 195 | 260 | 325 | 390 |
Connect with us
Follow us on any of our social media channels for energy-efficient tips, rebates, giveaways and much more.
---
The ENERGY STAR name and symbol are trademarks registered in Canada by the United States Environmental Protection Agency and are administered and promoted by Natural Resources Canada.