Reducing concrete's carbon footprint with CO2 utilization technologies

Going beyond carbon capture in the concrete industry
A number of projects are investigating the use of not only storing post-industrial CO2 but also its integration in concrete - carbon capture and utilization (CCU). In CCU, emissions from the concrete and cement industries, as well as other large emitters, are injected into precast concrete where it is permanently mineralized, and can therefore, replace some of concrete's energy-intensive cement. Other emerging technologies aim to replace cement entirely.
How can captured CO2 be utilized?
Nova Scotia's CarbonCure Technologies Inc. provides a system that integrates waste CO2 into fresh concrete. In a series of chemical reactions, called carbonation, the injected waste CO2 becomes permanently embedded in the precast concrete during the curing process, which reduces the amount of cement required.
CarbiCrete, based in Montreal, employs carbonation activation to replace cement altogether by using ground steel slag, a by-product of steel production. CO2 is injected during the concrete curing process and binds with slag granules to provide high-strength concrete. By avoiding the emissions associated with cement production, the concrete produced is actually carbon negative.
In Calgary, Carbon Upcycling uses a powder made from waste CO2 that is sequestered into inorganic solids as a cement substitute. They are also producing CO2-enhanced fly ash, a by-product of coal burning, as a cement substitute.
Some case studies in CO2 utilization
Numerous companies have opted to reduce their carbon footprint by utilizing waste CO2.
For example, Brampton Brick, a concrete masonry producer, has manufactured all of its masonry products using CarbonCure's technology to capture waste CO2 and inject it, since 2015. The technology has been installed in Brampton Brick's Hillsdale, Peel and Brockville manufacturing sites.
In Alberta, Northstar Concrete Ltd. has used the recycling technology since 2017 in order to meet the increasing demand for more sustainable building materials in the Edmonton area. BURNCO Rock Products installed CarbonCure's technology a year earlier in their Calgary, AB ready mix plant.
Patio Drummond is partnering with CarbiCrete to produce 25,000 concrete masonry units per day beginning in August 2020.
LafargeHolcim's Winterburn plant in Edmonton, AB, has been using CarbonCure's CO2 mineralization technology since 2017 using liquid CO2 from the nearby Dow petrochemical plant. Currently, there are six other concrete plants in Alberta outfitted with CarbonCure's technology.
The potential benefits of CO2 utilization are substantial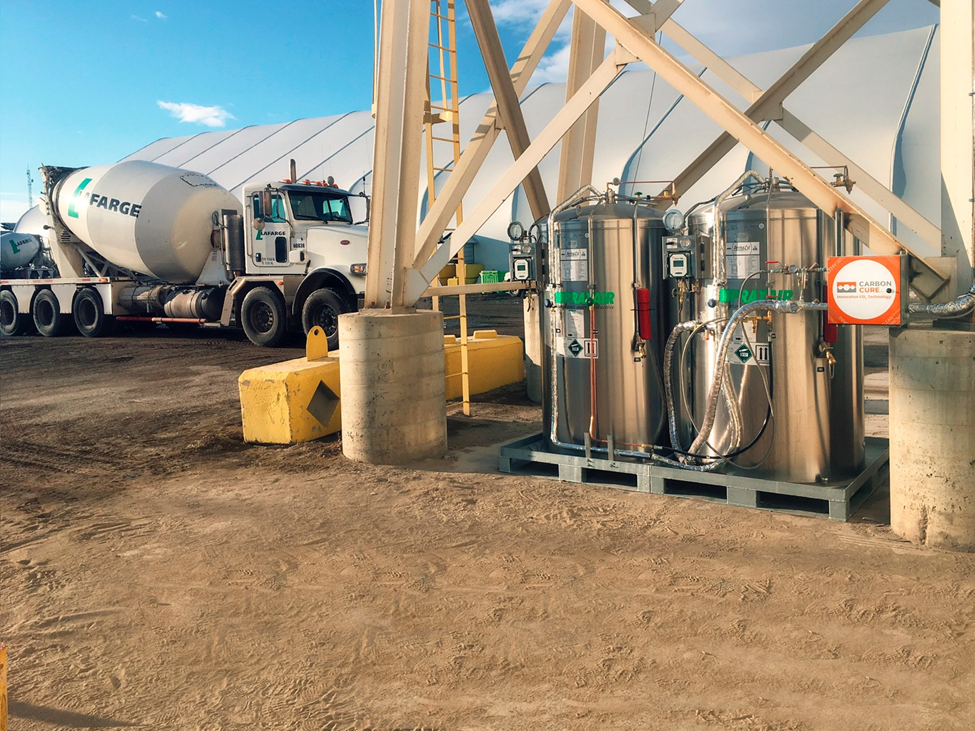 By December 2019, around 3.3 million cubic meters of concrete were produced with the CarbonCure system, thus reducing more than 50,000 metric tons of CO2 emissions and decreasing the amount of cement required. It is estimated that the technology could reduce total CO2 emissions by 530,000 metric tons annually in Alberta by 2030 with broader industry adoption. Some research papers suggest that if the majority of brick and concrete block plants in North America implemented CO2 carbonation, CO2 emissions could be reduced by 2.5% annually.
Several studies have also shown that CO2 cured concrete has greater compressive strength, 10% to 30% more depending on the technology, compared to traditionally cured concrete. Moreover, curing concrete with CO2 could replace the steam that is normally used and thus, reduce energy consumption for concrete products even further.
Additional reading
One of the sources for this article came from AlbertaViews. Refer to CarbonCure Technology's website and CarbiCrete's website for overviews of their respective CCU technologies.