After your EnerGuide home evaluation
The results of your home evaluation will help you understand and improve the energy performance of your home. You will receive the following in order to continue with your home retrofit journey
An EnerGuide rating and label
A Homeowner Information Sheet
A Renovation Upgrade Report
How to interpret your results
The EnerGuide rating, scale, and label
The EnerGuide rating (found on your label, information sheet, and report) demonstrates the energy performance of your home. It is an estimate of the net amount of energy your house consumes in a year.
EnerGuide Label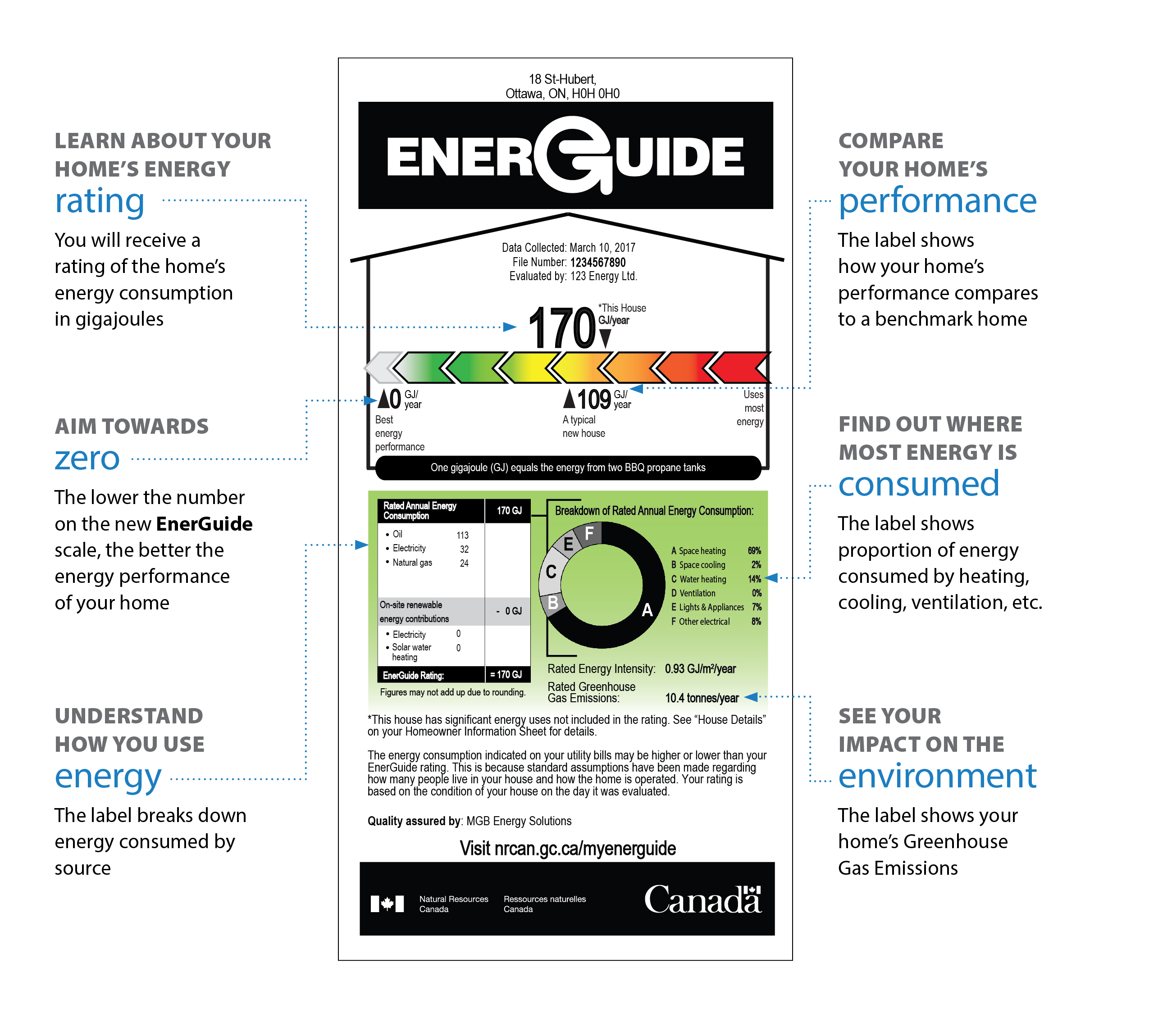 Text version

Learn more about your home's energy through the "rating" (you will receive a rating of the homes's energy consumption in gigajoules); Aim towards "zero" (the lower the number on the new EnerGuide scale, the better the energy performance of your home); Understand how you use "energy" (the label breaks down energy consumed by source); compare your home's "performance" (the label shows how your homes' performance compares to a benchmark home); find out where the most energy "consumed" (the label shows proportion of energy consumed by heating, cooling, ventilation, etc); and see your impact on the "environment" (the label shows your home's Greenhouse Gas Emissions)

Learn how Natural Resources Canada's EnerGuide makes homes more energy-efficient, more valuable, and more comfortable at nrcan.gc.ca/homes
Key points to understanding your rating and the scale
Aim towards zero on the rating scale. The lower the number, the better energy performance of the home.
Best energy performance indicates high performing homes, with a rating of zero gigajoules per year meaning it produces as much energy as it consumes. Generally, these homes would be highly energy-efficient.
An annual gigajoule rating (GJ/year) allows you to see your score as a unit of energy consumption, similar to how you would see a consumption rating of kilowatts per hour for appliances, litres per 100 kilometres for vehicles, or calories for food. Learn about gigajoules.
A typical new house is the reference point against which to compare your rating. It is a version of your house as if built to typical new construction standards for energy performance.
Your EnerGuide label and homeowner information sheet show your home's rating both as a number and as a point on the GJ-per-year scale. It includes
information on how the rating is calculated
a breakdown of your rated annual energy consumption
details about your home's building envelope and mechanical components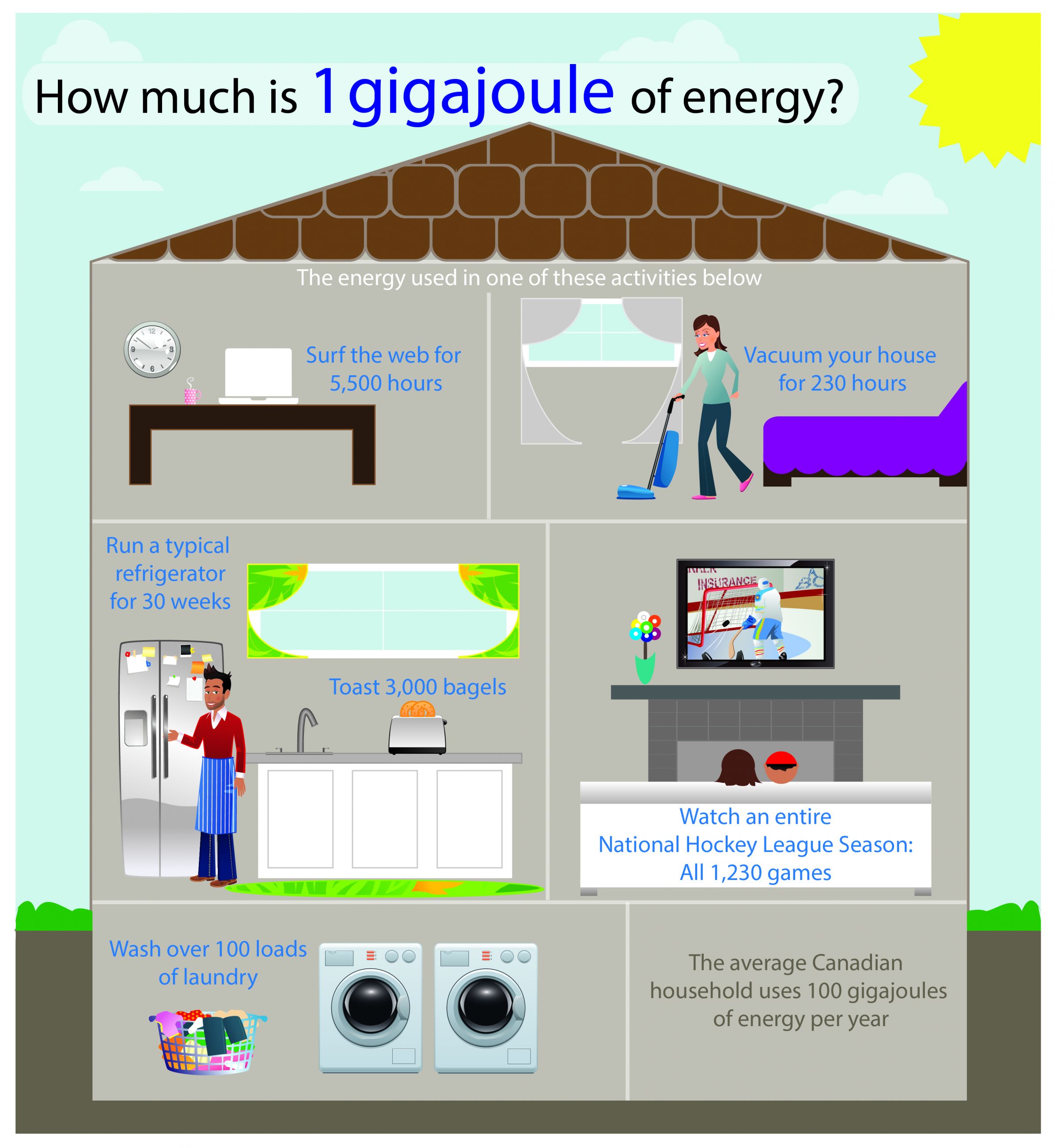 Text version

The energy used in one of these activities:

Surf the web for 5,500 hours; vacuum your house for 230 hours; run a typical refrigerator for 30 weeks; toast 3,000 bagels; watch an entire national Hockey League Season – all 1,230 games; wash over 100 loads of laundry; The average Canadian household uses 100 gigajoules of energy per year.
Your renovation upgrade report
Your report is a personalized roadmap that includes
a list of recommended upgrades and energy-saving results
a breakdown of your energy usage
before and after charts showing heat loss by building component
your EnerGuide home rating before and after recommended upgrades
customized comments from your energy advisor
tips for saving energy
The upgrade recommendations can help you make decisions about which upgrades would save the most energy.
You may also be eligible for federal incentives or regional programs to help you with implementing the recommended upgrades.
Energy performance improvements can lead to an increase in the overall comfort in your home, help reduce your utility bills, and help us make the planet better.
Standard operating conditions vs. household operating conditions
During your home evaluation, your energy advisor collects data on your specific household operating conditions to estimate your annual energy consumption and recommend upgrades.
Your EnerGuide rating applies to the house only. NRCan's energy simulation software uses standard operating conditions – for thermostat temperatures, hot water consumption and number of occupants, among other factors – to compare your home to other homes in your region.
What does my EnerGuide rating mean for my utility bills?
You shouldn't expect your home's annual energy use, as reflected on your utility bills, to match your EnerGuide rating or the estimated household energy use reflected in your evaluation.
Your household will have normal fluctuations in energy use – EnerGuide's energy simulation software doesn't account for these. Changes in local weather patterns can also significantly affect your consumption and utility bills.
You may also have a pool, hot tub or other significant energy uses in your home that aren't included in EnerGuide calculations. Your homeowner information sheet lists these under "House details" as atypical energy loads.