Green Jobs in Natural Resources

2022-23 funding for STIP—Green Jobs has been fully allocated. 2023-24 applications for employers and youth will open in Spring 2023.
Supporting youth and employers
Youth play an important role in shaping the future of Canada's economy. The Science and Technology (S&T) Internship Program - Green Jobs provides funding to eligible employers across Canada to hire and mentor youth in the natural resources sector, including in energy, forestry, mining, earth science, and clean technology. The S&T Internship Program has been part of the Government of Canada's Youth Employment and Skills Strategy since 1997.
NRCan supports youth and employers by working with third-party organizations to:
Kick-start careers in the energy, forestry, mining, earth sciences, and clean technology sectors
Create quality and inclusive work experiences that improve environmental outcomes in the natural resources sector
Build a skilled and diverse workforce
Promote equity, diversity and inclusion by targeting 60% participation from employment equity groups
Watch testimonials from green jobs interns and employers
Results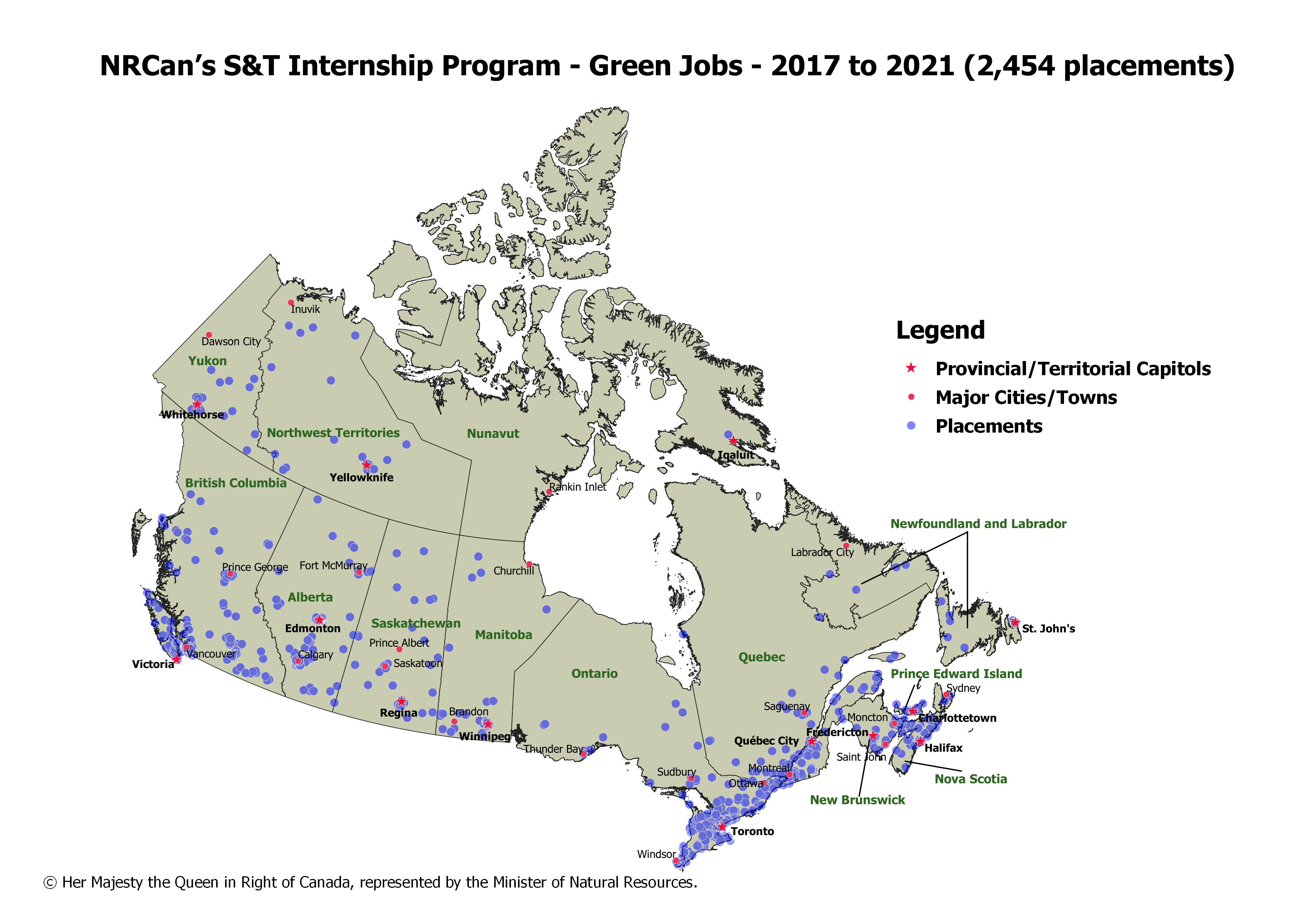 83% Placements in Clean Technology
53% Employers are small to medium size organizations
63% Youth belong to one or more Employment Equity group
82% Youth find full-time employment
Results are aggregated and based on data collected starting in 2017-2018.
Description – Regional Distribution of Internships Opportunities

The Science and Technology Internship Program helps youth living in urban, rural and remote communities access work experience opportunities in the natural resource sector. From 2017/18 to 2020/21, the program filled 2,454 green jobs across Canada, in every province and territory.

Table 1

Total internships filled by the Science and Technology Internship Program from 2017/18 to 2020/21.

| | |
| --- | --- |
| Province/Territory | 2017-2021 |
| British Columbia | 500 |
| Alberta | 364 |
| Saskatchewan | 71 |
| Manitoba | 62 |
| Ontario | 854 |
| Quebec | 322 |
| New Brunswick | 49 |
| Nova Scotia | 100 |
| PEI | 18 |
| Newfoundland | 26 |
| Yukon | 68 |
| Northwest Territories | 19 |
| Nunavut | 1 |