Policy Analyst Recruitment and Development Program (PARDP) - Graduate Stream
Who should apply
PARDP's graduate stream is seeking highly motivated candidates who have a keen interest in Canadian public policy and administration.
Applicants must have or be in the process of obtaining a graduate degree (master's, or law (juris doctorate), or PhD), demonstrate academic excellence, and have experience conducting research (qualitative or quantitative) and leadership experience.
Our application is open
Required Competencies
Initiative: you identify opportunities, issues, and gaps; proactively act and follow through on work activities to capitalize on opportunities or resolve issues
Eager to Learn: you are curious and find ways to learn more about the topics and tasks at hand; or you look for connections and information that help you to better understand
Analytical: you ask questions, you think about underlying assumptions, you create, gather and summarize data in all its forms (quantitative, qualitative), you have strong observational skills, you take a critical approach to understanding and solving problems
Collaborative: you share information and include relevant parties, you establish relationships that are built on mutual trust and benefit, you seek consensus in a constructive fashion, you value and seek diverse perspective, and you aim to co-create solutions and give credit to those involved in the process
Communication: Oral and Written: you breathe life into information to inform the public and engage or support the decision-making process. You have strong oral and written communication skills
Respectful of Diversity: you value differences; you seek diverse perspectives; you build on the strengths of others; you find commonalities to achieve shared goals; you share credit and celebrate successes. You understand the importance of truth and reconciliation
Humility: you are open to new and better ways of doing things even when you have developed comfort with the current method, and you are aware of and consider the impact of your words and actions on others
Message from PARDP Champion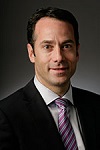 As the PARDP Champion, I am proud of the talent this program attracts, and of the strong reputation it has developed within NRCan and beyond. As NRCan's flagship recruitment program, PARDP provides a unique opportunity to develop the core competencies required to become a strong policy analyst or economist. As a result, many of our PARDPs have emerged from the program as exceptional leaders and policy professionals.
I have worked with many PARDPs and I am consistently impressed by the variety of skill sets and perspectives that they bring to the Department. As we advance important files related to the environment, the economy, reconciliation, energy, and innovation, we need competent, enthusiastic, and creative individuals. PARDP continues to recruit such people to support the Department's work in these areas.
Frank Des Rosiers

Assistant Deputy Minister
Strategic Policy and Innovation
Get in touch
Questions about the program or application process? Email us your questions.
We also want your feedback. We want to ensure an inclusive process that meets candidate needs and welcome your suggestions to make this stream even better in the future.
Find out more about PARDP