Supporting Airport Infrastructure in Canada's North
By Chantal Hunter
Scientists study permafrost and terrain conditions at the Iqaluit International Airport in Nunavut to help ensure the safe transportation of people, goods and services to and from Canada's North.
Airports Play Key Role in Canada's North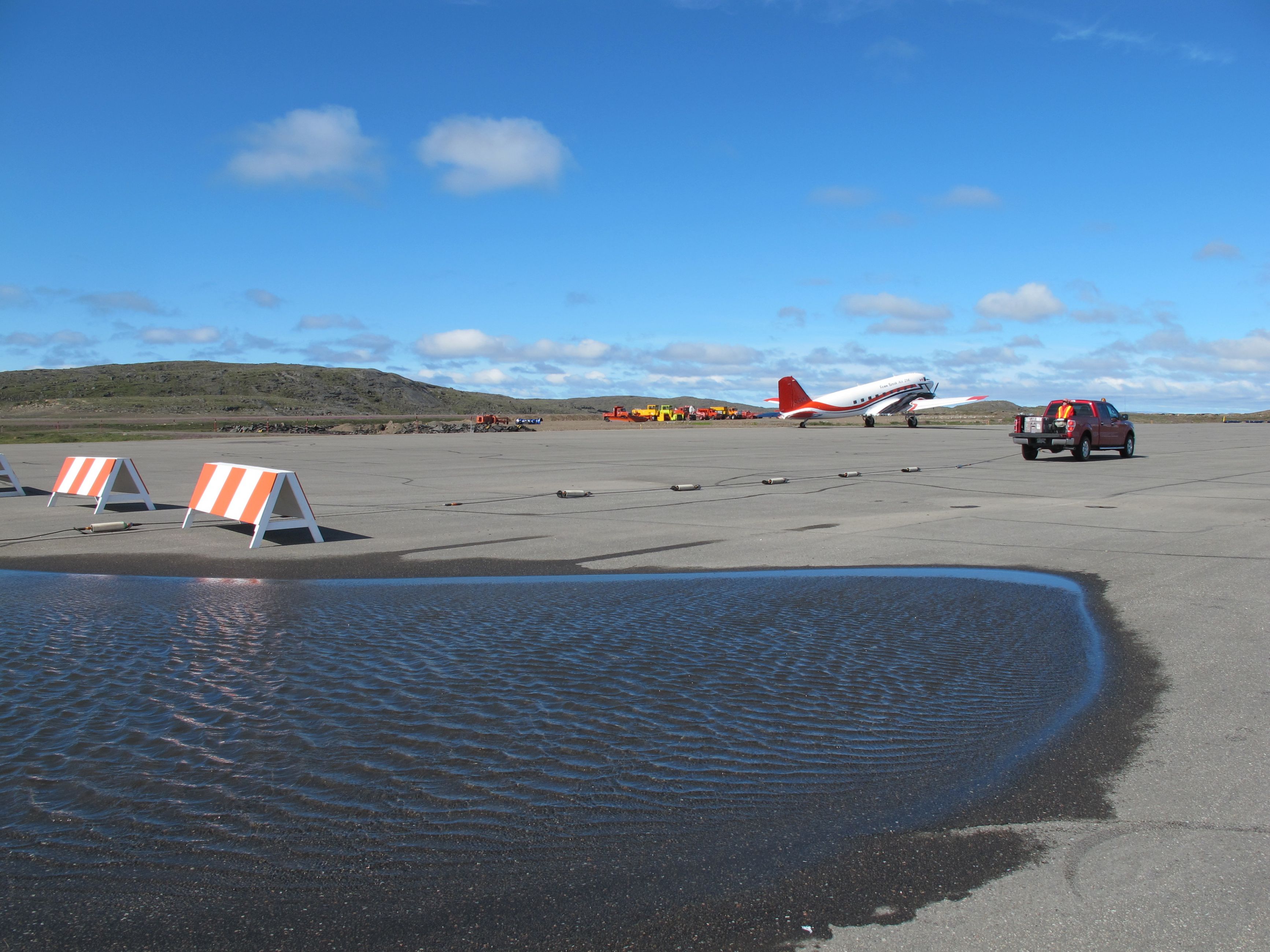 Airports play a key role in maintaining year-round access to remote northern locations and communities and are vital for transporting workers and supplies.
However, as a result of climate warming, factors such as permafrost thaw affect the safety and sustainability of infrastructure like airports and roads. For instance, warming that causes permafrost thaw under an airport taxiway can make it unstable and subject to collapse.
Permafrost Study at the Iqaluit International Airport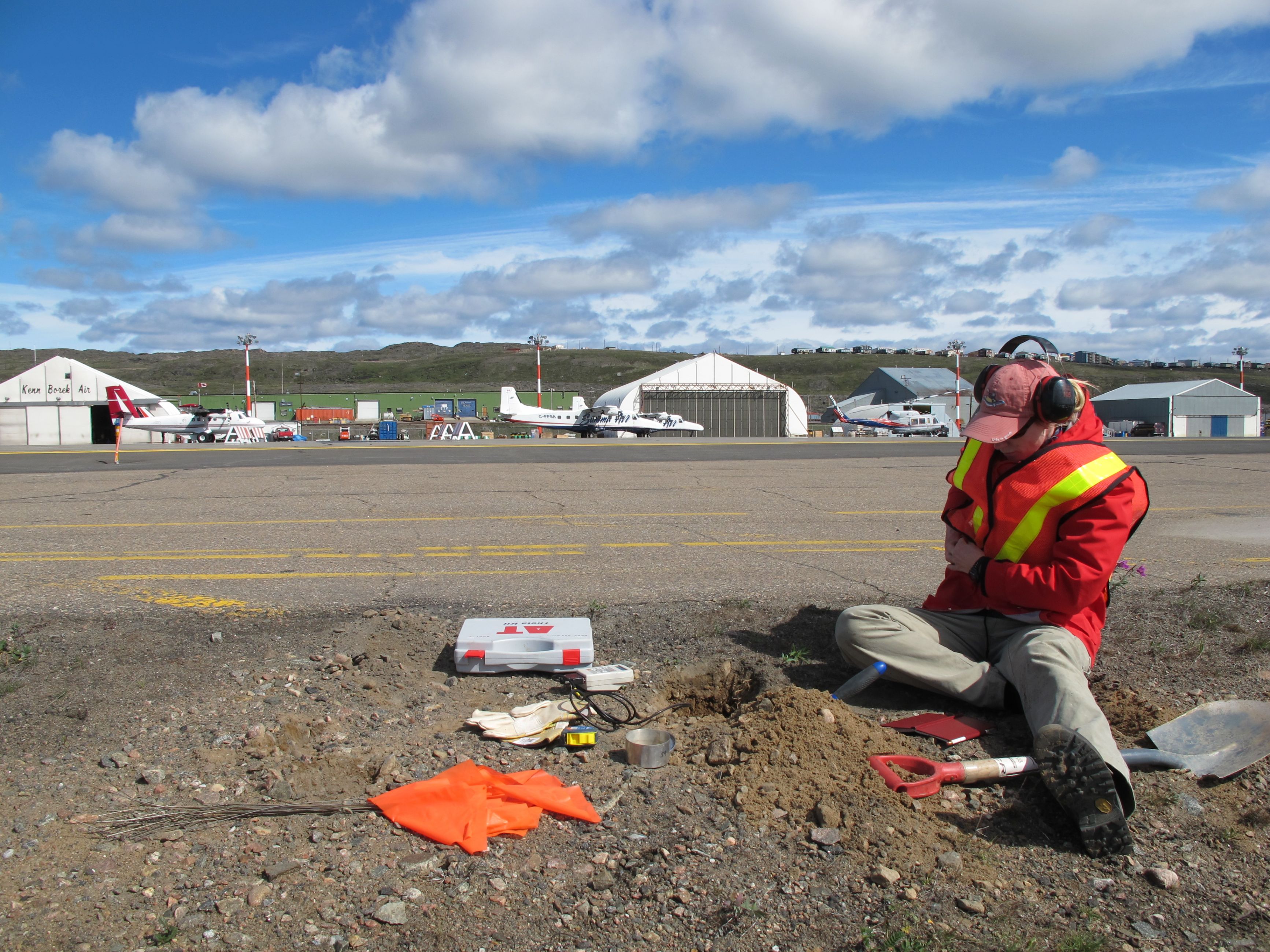 Anne-Marie Leblanc, Permafrost Geoscientist with Natural Resources Canada (NRCan) and her team, in partnership with the Canada-Nunavut Geoscience Office and Laval University's Centre for Northern Studies, concluded a joint research project on permafrost sensitivity and terrain conditions for the Iqaluit International Airport.
The Iqaluit International Airport is the transportation hub for the eastern Canadian Arctic. Built during the Second World War, it has been impacted since its construction by stability issues, such as thaw settlement.
Despite numerous engineering studies carried out over the years to address local problems at the airport, important knowledge about local terrain conditions and permafrost sensitivity was sparse and not well integrated with other environmental factors. Interactions between ground conditions, infrastructure, and environmental and climatic conditions were also poorly understood.
Studying Permafrost Conditions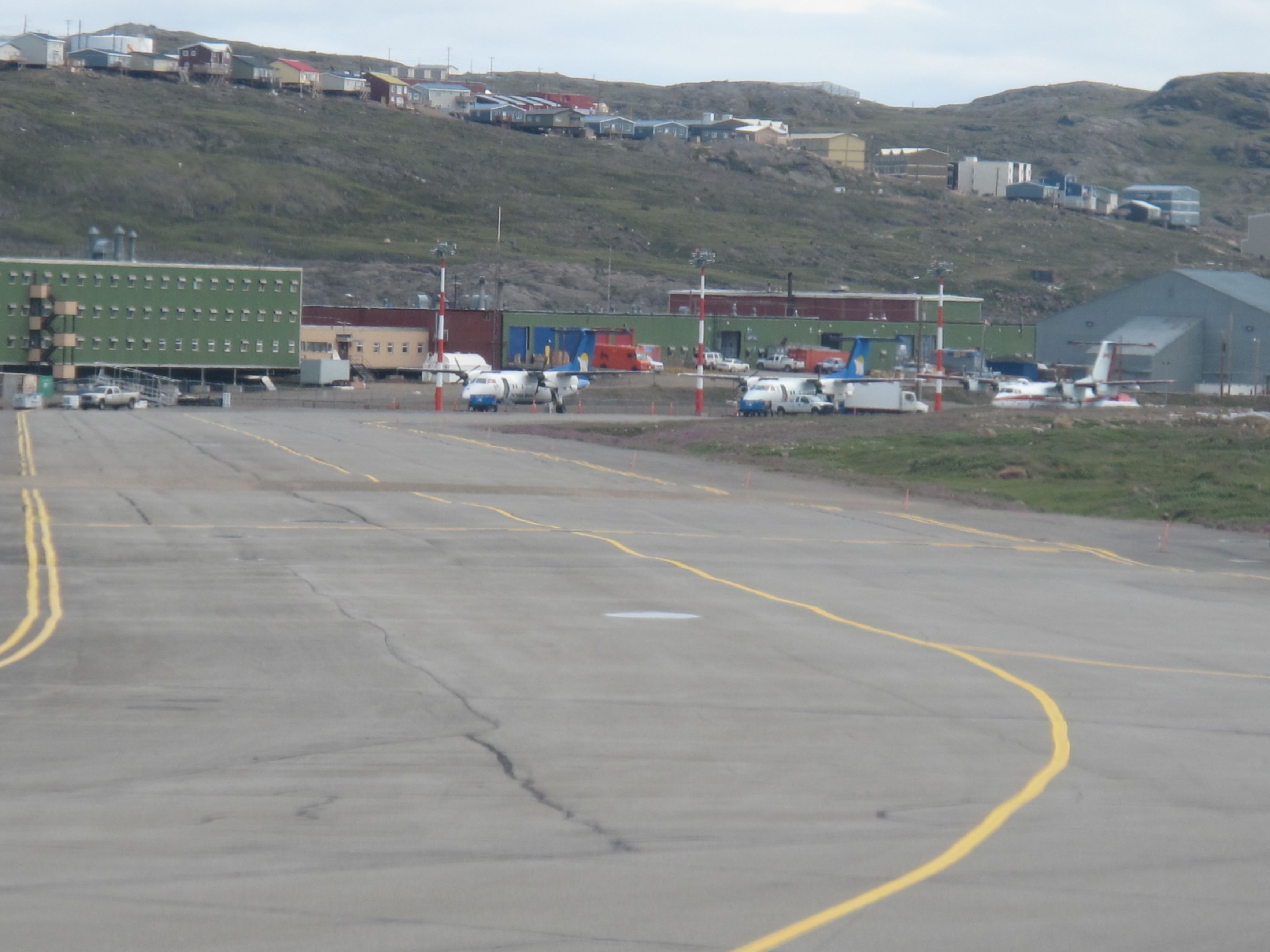 To address knowledge gaps at the Iqaluit International Airport, scientists conducted geoscientific research of the airport's permafrost conditions, its sensitivity to thaw settlement and the physical processes involved in the permafrost's degradation.
Scientists used a range of geoscience data to assess the conditions. This included ecological and surficial sediment mapping. Remote sensing of ground settlement was also used to identify potential hazards. These initiatives were supported by field validations, geophysical surveys and permafrost measurements.
"The results of our research have translated into engineering decisions made by the Government of Nunavut and its partners that will benefit the Iqaluit International Airport Improvement project and will help prolong the life of a critical piece of northern infrastructure." says Greg Oldenborger, Research Scientist with NRCan's Geological Survey of Canada.
Research activities identified areas of local and regional ground settlement, and related these observations to permafrost and hydrological processes leading to abandonment of an existing problematic taxiway. In addition, as the study area encompasses a variety of terrain, the knowledge acquired from this project will also be invaluable for the development and maintenance of other northern infrastructure such as roads and airports in areas with similar characteristics.
"Climate change is leading to important changes in Canada's North," says Greg. "NRCan, with its academic and territorial partners, is providing geoscience knowledge to support planning, risk management and adaptation measures for infrastructure development and management projects across Canada's North."
For more information, visit the Natural Resources Canada Web site.