Ultra-fast charging of lithium-ion cells for the mass global adoption of electric vehicles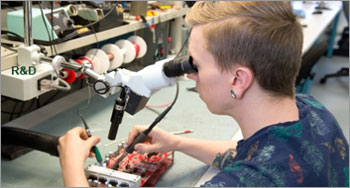 Sector - Focus area
Transportation - High Voltage Power Electronics
Status
Active
Partners
Fiat Chrysler Automobiles
Fund
Energy Innovation Program
Year
2020
EIP Contribution
$ 2,755,500
Project Total
$ 3,674,000
Location
Ottawa, ON
Find out more
Lead Proponent
GBatteries
Solution
GBatteries has developed an ultra-fast, pulse charging method for lithium-ion batteries (ActiveBMS) that reduces battery degradation and thereby increases cycle life by a factor of four compared to charging using conventional methods (CCCV). The technology consists of two parts: our proprietary artificial intelligence algorithms designed to generate unique charge pulse profiles, and novel hardware that delivers the precise pulses at high frequency, resulting in the reduction of irreversible chemical reactions during charging.
Project
Aims to demonstrate ultra-fast charging for an EV battery, without imparting additional degradation of the battery life and performance. The target performance is 75% state of charge within 15 minutes.
Expected Outcomes
ActiveBMS increases battery life and would prolong individual battery operation, which would in turn decrease environmental hazards from premature disposal and recycling of materials used to create lithium-ion batteries, such as non-renewable rare earth metals. Batteries equipped with ActiveBMS would have predictable cycle life degradation beyond 80% retentive capacity (end of battery life for EVs) and so would qualify for second life battery to be used for energy storage applications, and hence reduce environmental hazards further.
The market penetration needed to achieve the 0.5Gt GHG/year global reductions by 2050 needs to rise to 20% in 2031, 35% in 2040, and 50% in 2050 if comparing the lowered emissions provided by ActiveBMS technology-enabled EVs vs today's conventional EVs.