CO2 utilization in concrete: a new circular economy model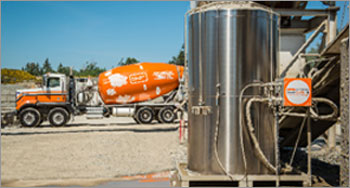 Sector - Focus area
Manufacturing - Cement Production
Status
Active
Partners
Air Liquide
Cement Association of Canada
Linde
National Ready Mixed Concrete Association
Trio Ready-Mix
Praxair
Fund
Energy Innovation Program
Year
2020
EIP Contribution
$ 2,026,500
Project Total
$ 4,053,000
Location
Dartmouth, Nova Scotia
Find out more
Lead Proponent
CarbonCure Technologies Inc.
Solution
CarbonCure has developed a portfolio of carbon capture, utilization, and storage technologies that integrate post-industrial CO2 into concrete through applications for precast, and recycled concrete aggregate products, and for concrete wash water.
Project
Aims to demonstrate 2 technologies: Wash water beneficiation and precast concrete production. Including further development of recycled aggregate products.
Expected Outcomes
Estimates for global emissions from the cement and concrete industry suggest that the industry annually generates 2.2 Giga- tonnes of CO2 per year. This figure will continue to rise due to anticipated increased demand across the globe and in Canada (annual growth rates are estimated at 2% growth globally and 2.2% in Canada).
CarbonCure aims to achieve a CO2 emissions reduction of 209,694 tCO2e/year by the end of the project in 2022 through technology installation at concrete plants (saleable units) included in this project scope. CarbonCure already maintains relationships with major producers through the sale of previously commercialized first generation masonry and ready mix CO2 technologies.
To achieve the targeted 500 MT annual CO e target by 2050, CarbonCure would need to operate its full suite of CO utilization technologies in 76,302 concrete plants, which represents an estimated 37% global market penetration (assuming an average carbon savings of 6,555 tCO2e per concrete plant). There are currently an estimated 120,000 concrete plants across the globe, with market growth conservatively estimated at 2% per year (equating to an estimated 208,923 concrete plants in 2050). If CarbonCure were successful in realizing complete market adoption across its suite of CCUS technologies, the company has the potential to unlock up to 1,369 MT of annual CO2 emissions reductions across the globe by the year 2050.