Chemical manufacturing through electrochemical carbon dioxide utilization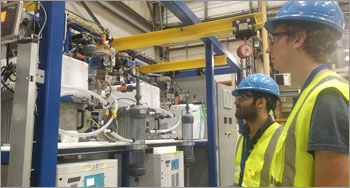 Sector - Focus area
Manufacturing - CO2 capture and utilization
Status
Active
Partners
The University of Toronto
Total American Services
Fund
Energy Innovation Program
Year
2020
EIP Contribution
$ 1,400,000
Project Total
$ 1,800,000
Location
Toronto, ON
Find out more
Lead Proponent
CERT Systems Inc.
Solution
CERT has developed an electrochemical technology to convert carbon dioxide into basic chemical feedstocks and fuels. Using only water, electricity, and a catalyst, CO2 can be transformed into building blocks like ethylene. When powered by renewable energy sources, the process provides net-neutral production of precursors for fuels and consumer plastic.
Project
Through this Breakthrough Energy Solutions project, CERT will advance and scale their carbon-conversion technology. The project will focus on improving CO2 utilization, device stability, and product purification. Through this project, CERT will develop an electrocatalytic system that is robust, efficient, and able to synthesize conventional petrochemicals such as ethylene from CO2 at competitive costs.
Expected Outcomes
This process can achieve reductions by substituting fossil derived products with carbon-neutral chemicals.
For example, the ethylene market is approximately 200 MT annually. Using CERT's technology, up to 7 tonnes of CO2 emissions could be avoided when substituting conventional ethylene, meaning there is potential for up to 1.4 GT in reductions. An ethylene market penetration of about 30% would enable 0.5 GT reductions when using renewable electricity.
Further reductions are achievable through penetration into the fuels market. For intermittent sources such as solar and wind, CO2 electrolyzers could be used when electricity is produced in excess. Rather than selling electricity at well below cost, exportable chemicals and fuels could be synthesized. This also enables long term, seasonal storage of electricity in chemical form. For example, excess solar electricity generated in the summer could be used to synthesize renewable fuels that could be used during the winter.