West 5 Smart Grid Project
Strategic Area
Smart Grid Demonstration & Deployment
Status
Active
Partners
S2e Technologies
Sifton Properties Ltd
Western University
Fund
Green Infrastructure
Year
2018
GI Contribution
$2,750,349 Demonstration
$2,584,000 Deployment
Project Total
$12,453,738 M
Location
London, ON
Find out more
Lead Proponent
London Hydro
Project Objectives
This project will enable the development of the West 5 Net-Zero Energy (NZE) community and microgrid in London, Ontario, creating a showcase for sustainable communities which incur minimal negative impacts on the environment, and providing an example of Canadian leadership in the field of integrated smart energy system technologies.
This project will involve the following innovations: (1) microgeneration; (2) renewable sources of energy; (3) tighter building envelopes; (4) smarter heating and cooling systems; (5) direct current (DC) generation, distribution, and energy storage; (6) system monitoring; (7) vehicle-to-grid storage; and, (8) improved Electric Vehicle (EV) charging infrastructure. The overarching objective of the project is to successfully construct Canada's first large-scale, fully integrated, net-zero energy community, to demonstrate net-zero energy's feasibility, deploy it at the community level, and to inspire and inform widespread change across Canada's construction industry towards net-zero energy.
Expected Results
It is expected that this smart grid community project will lead to reduced energy use and lower emissions, as well as promote net-zero energy development in Canada by increasing partnerships and aid the industry in adapting towards net-zero energy as a standard for all new construction. Furthermore, this project will allow a municipal utility to build their capacity for innovative projects and experiment with new business and technical models that can be scaled up in London, while setting an example for other Canadian communities.
GHG reductions (tCO2e):
2,192 annually by 2030
Project Updates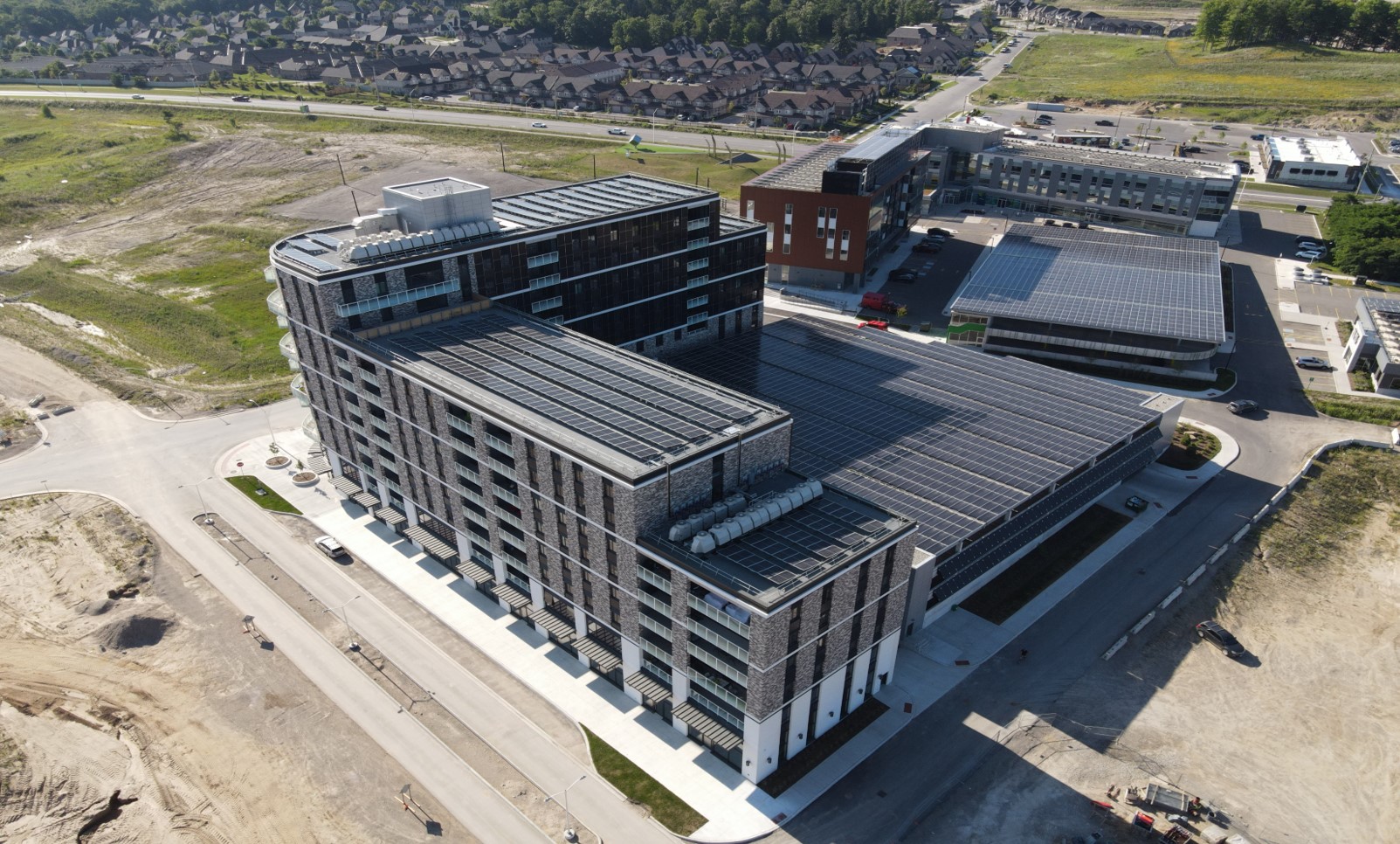 Approximately 1.5MW of distributed AC-tied solar PV generation has been installed on building facades, rooftops, and carports. Additional solar PV installations are planned for the summer of 2021. Eight AC-tied Level II EV chargers have been installed. Contracting processes for the engineering, procurement, and construction of the microgrid are underway.