The British Columbia Electric Vehicle Smart Infrastructure Project
Lead Proponent: BC Hydro
Location: Vancouver, BC
ecoEII Contribution: $ 4,114,000
Project Total: $ 8,392,000
Project Background:
Governments globally have embraced electric vehicle (EV) technology for its zero tailpipe emissions. Endorsement of the technology is further bolstered by the fact that electricity is an energy carrier that can be generated from multiple feedstocks, allowing nations to de‐risk their transportation fuel supply. In British Columbia (B.C.), light duty vehicles account for 15% of carbon dioxide (CO2) emissions. Electrifying these vehicles with efficient use of B.C.'s electricity, 93% of which is produced from clean and renewable resources, will not only improve urban air quality, but will also support technology innovation and reduce the province's greenhouse gas emissions.
The "British Columbia Electric Vehicle Smart Infrastructure Project" evolved from years of preparation for the commercial launch of EVs, by BC Hydro and its partners. The Project supports market transformation towards the efficient use of clean energy in B.C., in the transportation sector, by addressing barriers to the adoption of EVs. To that end, BC Hydro proposed the project for ecoEII funding. The project was awarded $4,114K.
Results
In April 2012, the Province of B.C. announced a $2.7 million Community Charging Infrastructure (CCI) Fund. The CCI Fund provided financial support to communities and businesses through a "Charging Stations Incentive". Successful applicants received funding towards the purchase and installation of a Level 2 charging station. BC Hydro supported the development and implementation of CCI, while the Fraser Basin Council managed, promoted and administered the fund. In total, the fund supported the installation of 456 publically accessible Level 2 charging stations across B.C.
With the goal of enabling long distance travel, thirty direct current fast chargers (DCFC) were installed at host sites stretching from Vancouver Island to the southern interior of B.C. In the fall of 2016, the final fast charger was put into service in Vernon, B.C. This milestone marked the end of a multi-year effort that began with the development of a site selection framework. A distance of 75 km was established as the maximum between charging stations. Sites selected were typically community centres or other major community hubs owned by local and regional governments. An existing exemption was identified in the BC Utilities Commission Act that allowed them to operate outside of the regulatory confines of a Public Utility and receive compensation for the provision of electricity. The first by‐the‐kWh‐fee EV charging network in Canada was established.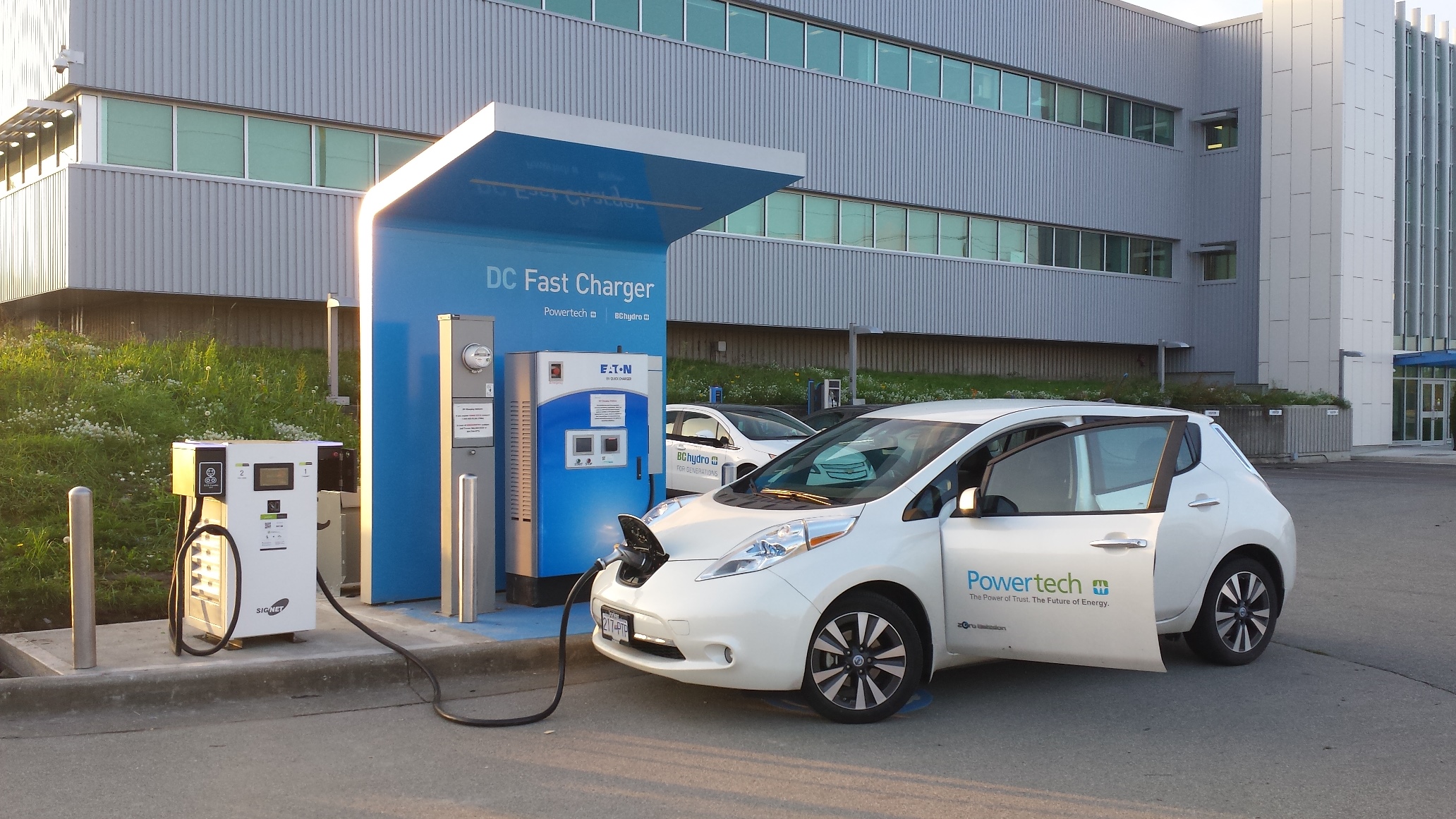 Through seven smart charging demonstrations, both business‐to‐business (B2B) and direct utility pathways for controlling EV charging were tested. In B2B pathways, utilities employ a standard demand response (DR) protocol (e.g. OpenADR) to request load shedding from DR aggregators (such as Greenlots, ChargePoint or FLO/AddÉnergie) who respond with load curtailment of charging stations on their network. The Edmonds workplace demonstration (a BC Hydro facility) validated the management and smart charging control of 5 AddÉnergie charging stations based on historical or real‐time building demand, using a local gateway controller. In direct utility pathways, utilities maintain customer relations and use their digital metering network for EV load control. At the British Columbia Institute of Technology (BCIT), the AFRESH Home housing demonstration project tested direct utility pathway communications for supporting smart charging using Smart Metering Infrastructure (SMI) - BC Hydro's digital metering technology.
Benefits to Canada
The strong uptake of EVs in B.C. (1.3%) is likely attributable to the early establishment of an EV infrastructure. Increased knowledge of planning, design and installation, business models, operations, and technical standards for smart charging and fast charging of EVs will further accelerate EV adoption in Canada, improving air quality and reducing CO2 emissions.
Next Steps
Pursuing larger smart charging demonstrations in collaboration with CrossChasm and AddEnergie. Considering an offer to take over operation of DCFC stations. Seeking partners for development of EV technology roadmap.