Nordic Battery Pack with Advanced Thermal Management and Data-Driven Battery Management System
Lead Proponent
Calogy Solutions Inc.
Project Outcomes
Battery Thermal Management and Battery Management Systems are two key components of a battery pack geared for harsh winter conditions.
As part of the Impact Canada Charging the Future Challenge, Calogy Solution's developed a Thermal Ground Plane technology which regulates the battery temperature to maximize the lifespan of batteries in aeronautics, marine vessels, automotive and commercial vehicles.
Calogy Solutions brings a technology which allows batteries to be cheaper, higher performance, safer, and last longer, all while being charged quicker than normal batteries are. They have advanced the technology components required for a high performance and advanced Lithium-ion battery pack for harsh winter conditions, occurring in Canada and other Nordic countries, towards market readiness.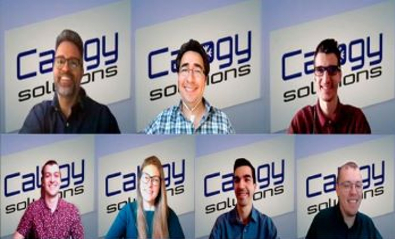 Group photo of Calogy Solutions team
"The financing and credibility brought by the Charging the Future challenge has enabled us to overcome many obstacles in commercialization and built a solid foundation for our accelerated growth."– The team at Calogy Solutions