Low Carbon Fuel Demonstration Pilot Plant
Lead Proponent: Lafarge Canada Inc.
Location: Bath, Ontario
ecoEII Contribution: $ 3,423,200
Project Total: $ 13,981,000
Project Background
The global cement industry is a very significant source of greenhouse gases, emitting about 5% of the world's carbon dioxide (CO2) emissions, or approximately two and a half times Canada's total emissions. One of the major sources of CO2 from a cement production plant is the fuel used to heat the kiln. In making cement, raw materials such as limestone and clay or shale are placed in the kiln and heated with this fuel to an average temperature of 1450°C, in order to produce an intermediate product called clinker. The resulting clinker is ground into a fine grey powdered cement. In Canada, the primary fuels used are coal or petroleum coke, both of which are high carbon fossil fuels, as well as some natural gas usage, which is another fossil fuel.
Recognizing the need to reduce CO2 emissions from cement production, as well as other competitive advantages of reducing operating (fuel) costs, Lafarge proposed the project "Low Carbon Fuel Demonstration Pilot Plant" for ecoEII funding. The project was awarded $3,423,200 to demonstrate the use of lower carbon fuels (LCFs) as a partial replacement for pulverized coal-petroleum coke mix currently used at Lafarge's Bath, Ontario plant.
Results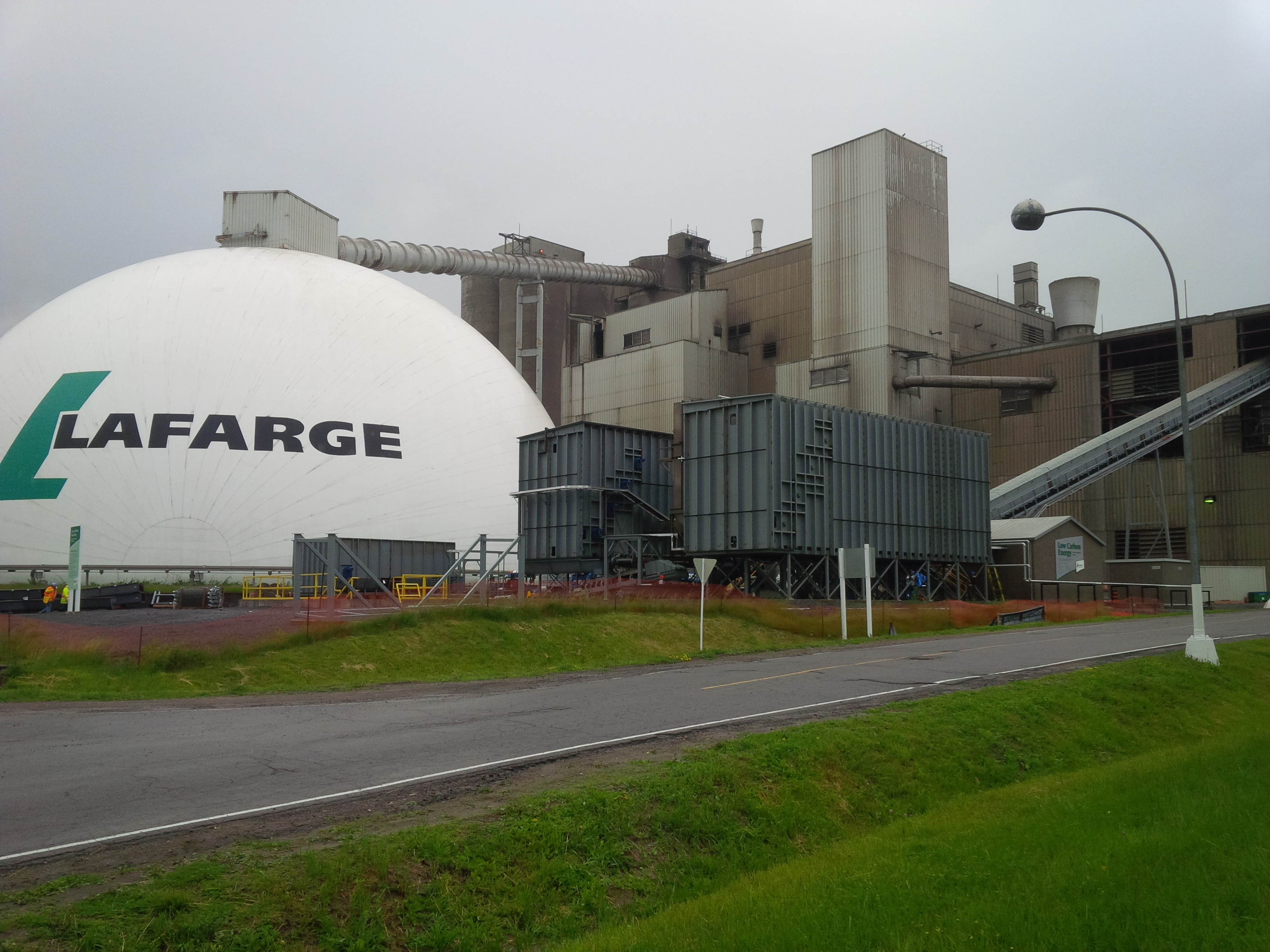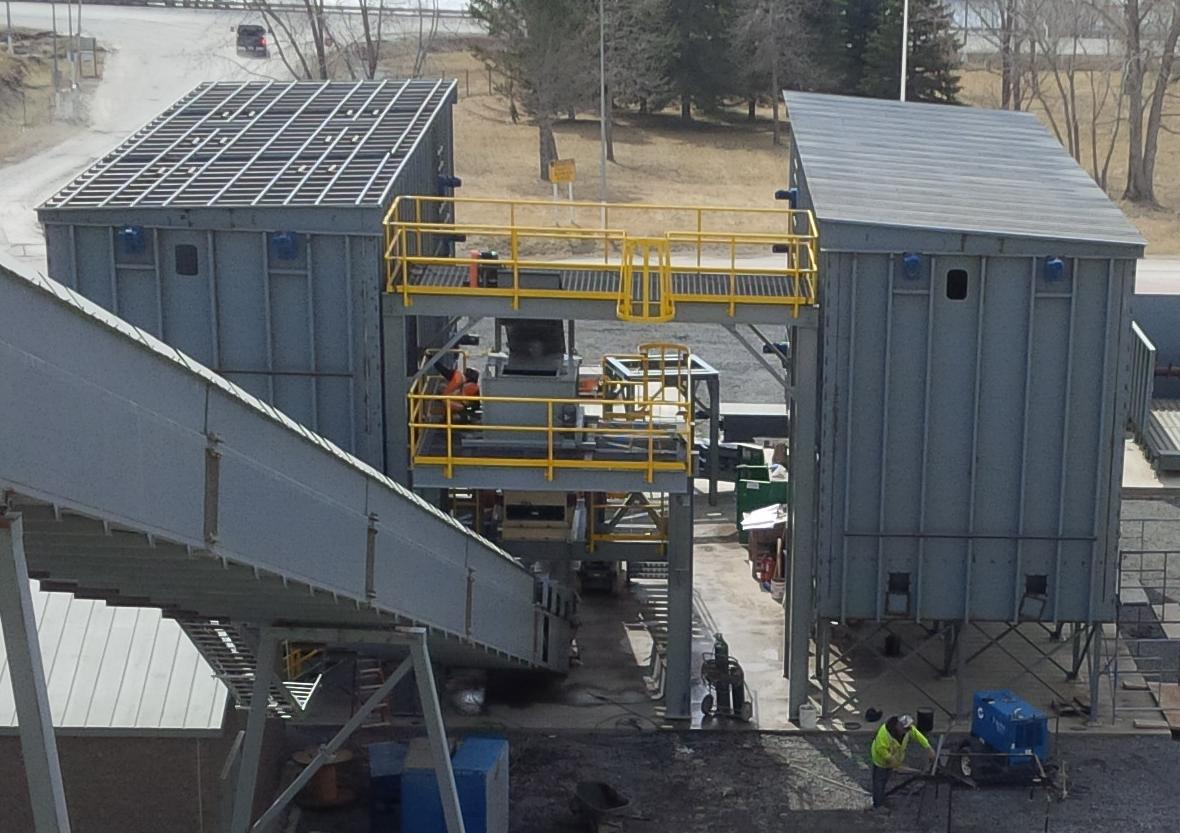 Design and construction of the LCF platform, including a LCF injection system began in the summer of 2013 and continued through the fall. Changes were also made to the plant's burner design in order to optimize its performance with LCFs and explore the potential for LCF to reduce NOx emissions. In December 2013, a pre-commissioning trial was conducted and construction continued on the demonstration plant through the spring of 2014.
One of the key challenges of repurposing landfill-bound raw materials as fuel is the processing, which includes size reduction (for efficient combustion), magnetic separation (to remove metal), and blending (to ensure a flowable and consistent fuel mix). This work was carried out by fuel supply partners. Testing of fuels was then conducted to determine combustibility, and the findings were used to modify the LCF system; for example, explosion panels and de-dusting systems were installed.
In July 2014, the completed demonstration plant was started up. Operational tests were conducted throughout the summer and as a result, adjustments were made to the feed system. Quality testing was performed on the cement produced and no detrimental effects were identified. Lafarge obtained pilot approval from the Ontario Ministry of Environment and Climate Change (MOECC), as well as other approvals needed to conduct the project.
Three fuel trials using different fuel mixes were completed. The first LCF test was conducted in October 2014 after filing the necessary 30-day notice period with the MOECC). Over 500 tonnes of pre-mixed feedstock (30% construction and demolition waste, 30% shingles, and 40% railway ties) was collected and stored for the source emission testing. The plant ran well during the test period with only one sampling interruption during a high wind period. Samples of test 1 stack emissions were taken for analysis, and results indicated that provincial limits were met with a wide margin. Statistical analysis revealed that only total hydrocarbons and total particulate were statistically significant during the LCF test 1 – and they were both lower than during baseline testing. Further analysis concluded that these effects, while beneficial, were not due to the use of LCFs. A Life Cycle Assessment (LCA) of greenhouse gas emissions (GHG) reduction determined that for every gigajoule of coal/coke replaced by LCF, GHG emissions (in CO2 equivalents) were reduced by over 70% with no increase in any other emissions.
Different feedstock mixes were used in subsequent tests including non-recyclable packaging from cardboard recyclers, shredded biomass/plastic composites, carpets, textiles, beverage containers, and K-Cups with similar results.
Benefits to Canada
According to Lafarge, use of LCF at the demonstration plant resulted in a decrease of 17,226 tonnes of CO2e and displacement of 6829 metric tonnes of coal (in 2016-17). Replication at plants across the country would enable the cement industry to remain globally competitive by reducing operating costs and carbon intensity. Once fully deployed in spin off projects, the Canadian industry can reduce its CO2e emissions by over 1 million tonnes annually.
Next Steps
Retrofitting Lafarge's 5 cement plants to use LCF, licensing of other cement and lime kiln plants across Canada, establishing a supply chain to ensure a reliable and high quality fuel supply, and improving processing systems.