eLeapPower R&D Collaboration with Purolator, Bell Canada & Cornerstone Hydro-Electric Concepts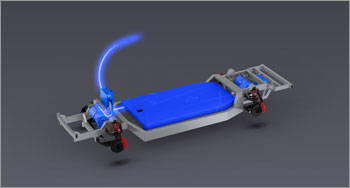 Sector - Focus area
Transportation - Advanced
Batteries for EVs
Status
Active
Partners
Linamar Corporation
Cornerstone Hydro
Purolator
Bell Canada
Fund
Energy Innovation Program
Year
2020
EIP Contribution
$ 3,000,000
Project Total
$ 7,607,720
Location
Toronto, ON
Find out more
Lead Proponent
eLeapPower
Solution
eLeapPower's patented high-voltage powertrain technology offers significant improvements to speed of charging (up to 6x faster) and an increase of up to 12% range per charge. It also lowers the costs for battery electric vehicles (BEV) and charging infrastructure – both inside and outside of the vehicle. Even better, it is the only powertrain system for electric vehicles that allows for truly green charging directly from renewable energy sources such as solar and wind – without the addition of additional hardware and associated efficiency losses.
Project
The goal is to convert a test group of Ford Transit Connect vans (owned by Bell Canada) and pick-up and delivery trucks with Ford F-450 chassis (owned by Purolator). This will involve engineering and refining eLeapPower inverters, system integration and testing of eLeapPower inverters to meet the specific parameters of these vehicles. The converted electric vehicles should achieve higher efficiency via a high-voltage powertrain which will extend their range by 12% - in part through enhanced regenerative braking. The eLeapPower system should also enable the test fleet to charge up to 6x using level 1 and 2 charging systems and up to 2x faster DC-charging at existing fast chargers.
Expected Outcomes
The project aims to demonstrate the benefits of eLeapPower technology to fleet operators and vehicle manufacturers (OEMs). It is eLeapPower be an initial, but important step towards market growth, since the addressable market for eLeapPower's smart inverter technology is all BEVs.
eLeapPower's plan is to showcase these technologies within the electric vehicle ecosystem comprising fleets, utilities, municipalities, charging station providers, governments and investors and to sell this key technology at various power levels to auto manufacturers globally.