Brampton Transit Electric Bus Demonstration and Integration Trial
Strategic Area
Electric Vehicle Infrastructure Demonstrations
Status
Active
Partners
Canadian Urban Transit Research & Innovation Consortium (CUTRIC)
New Flyer Industries
NovaBus
Siemens
Fund
Green Infrastructure
Year
2018
GI Contribution
$ 3,487,412
Ontario's Low Carbon Economy Leadership Fund (through NRCan)
$ 7,665,000
Project Total
$ 15,958,838
Location
Brampton, ON
Find out more
Brampton Transit
Electric Bus Demonstration & Integration Trial
Lead Proponent
The City of Brampton
Project Objectives
The objective of this project is to demonstrate on interoperable overhead bus charging system with electric buses on a number bus routes in the City of Brampton.
The project will help support the procurement, installation and operation of 4 overhead bus charging systems and 8 electric buses in order to displace existing diesel buses in the Brampton Transit fleet.
During the trial, data will be gathered and analyzed to determine the overall performance of the charging stations, efficiency of the electric-battery buses, and requirements for future deployments of electric-battery buses.
Expected Results
This project will accelerate the development of international standards for overhead charging systems associated with heavy-duty buses, as well as provide utilities and transit agencies with access to data associated with electric bus fleet operations.
Real-world vehicle and charger data will help transit agencies, bus manufacturers, as well as utilities and charging system developers, gain new knowledge that informs their respective organizations about the commercial and technical potential for integrated, standardized electric bus charging systems for the future.
In addition, this project will lead to Canadian job growth in the clean tech and zero-emissions transportation sector, and contribute to long-term solutions to reducing and eliminating air pollutants from transit operations.
Project Update, Spring 2021
Starting May 4, 2021 phase 1 of the trial project will see electric buses in service on Brampton roads.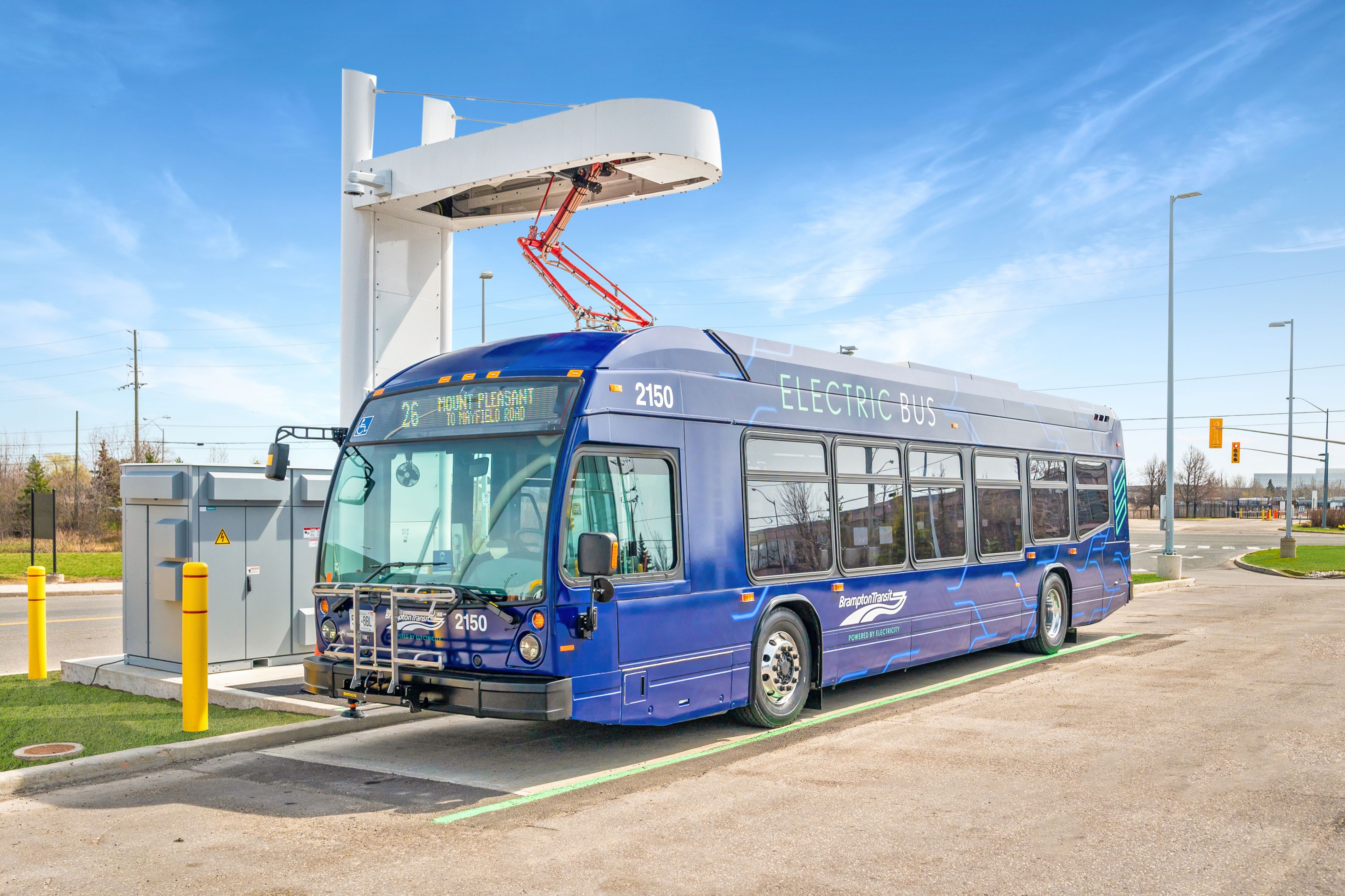 Brampton Transit Electric Bus at the charging station
Service in Brampton will begin with route 26 Mount Pleasant, followed by Route 23 Sandalwood later this Spring. As a part of the Pan Canadian Battery Electric Bus Demonstration and Integration Trial led by the Canadian Urban Transit Research & Innovation Consortium (CUTRIC), Brampton joins TransLink and York Region Transit in this global-first, multi-city deployment of fully interoperable buses and charging systems in partnership with Nova Bus, New Flyer Industries, ABB Inc., Siemens Canada, and Newmarket-Tay Power Distribution Ltd.
In comparison to the other cities in the trial, Brampton's deployment offers an increase in daily travel ranges on the electric buses as it includes depot and on-road charging options.
This launch will add eight battery electric buses to Brampton Transit's fleet and four high powered (450 kWh) overhead pantograph charging stations.
Eight Battery Electric Buses:

Two Nova Bus electric buses
Six New Flyer Industry buses

Four Overhead Pantograph Chargers:

Three ABB Inc. chargers: Mount Pleasant Village terminal and Queen and Highway 50 Züm station stop.
One Siemens Canada Ltd. Charger: Sandalwood Transit Facility