Adapting to climate change: The story of invasive insects in Canada's forests
What is an invasive species?
Alien species are those that have become established outside their historical, natural range. Often these species are introduced by people, or they spread on their own. Most alien species cause little harm, or may be beneficial. When they cause harm to our environment, the economy, or to society, they are called invasive alien species, often shortened to invasive species.
Invasive species, a familiar story
The story is by now a familiar one. Communities notice that trees are dying; experts are deployed to determine why; the answer is an insect and not an insect anyone has seen before. Then other experts are consulted, who determine that the species isn't native to Canada. The insect will go on to destroy millions of trees while scientists and forest managers are tasked with devising ways to respond to these impacts. This could be the story of the emerald ash borer, or the Asian longhorned beetle, or the spongy moth. But it's also the story of the European spruce sawfly and not one that is well-known.
Portrait of an invader
Name: European spruce sawfly
Status: Invasive alien species
Feeds on: Black spruce, Norway spruce and white spruce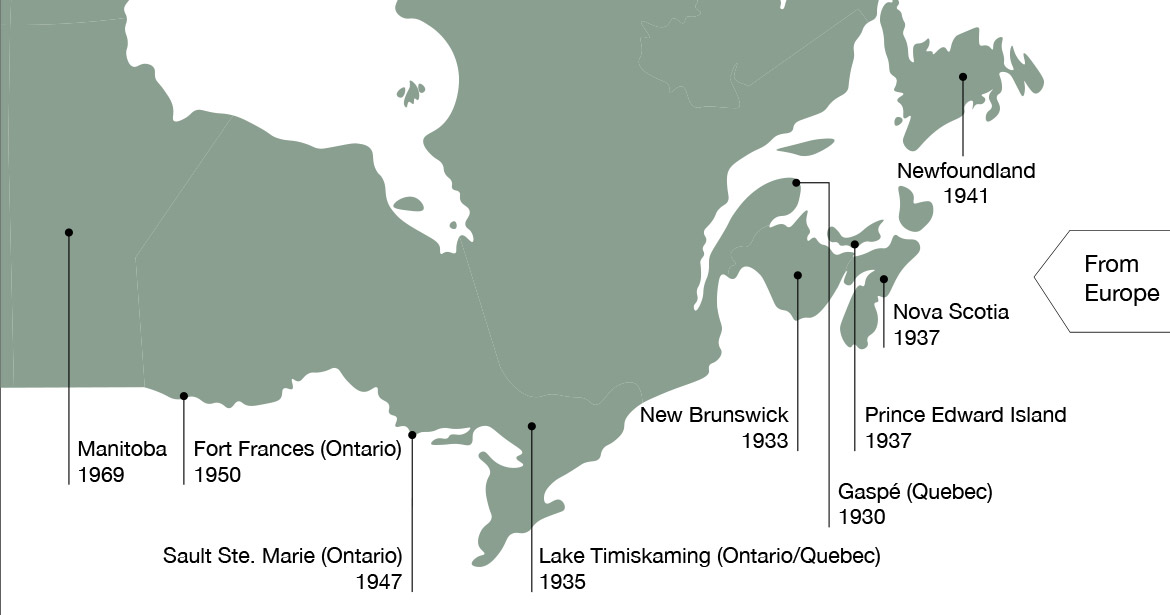 Response of Canada's authorities to the European spruce sawfly
Creation of the Forest Insect Survey. The introduction of this insect to Canada caused widespread concern that it would result in spruce trees no longer being a significant component of our forests, especially in Quebec and Ontario. This led to the creation of a national insect and disease survey to determine the extent and severity of major forest pests in Canada. These surveys are now done by the provincial forest health agencies. The information they report helps guide the response to invasive and native pests and document the spread and impact of invasive species.
Creation of elements of the Canadian Forest Service that persist to this day. The lab that is now known as the Atlantic Forestry Centre in Fredericton, New Brunswick, began as a small research station to respond to the European spruce sawfly and other forest pests. Today, there are six federal forestry research labs across Canada, all of which have a component related to forest pests.
Use of biocontrol to reduce impacts of an invasive species. Several parasitic insects and a viral disease from the sawfly's home range in Europe were introduced into Canada as biocontrol agents in the 1900s. The sawfly population in Canada now remains at low levels, causing little defoliation and minimal impacts on the forest. This work established Canada as a leader in forest biological control during the 50s, 60s and 70s and continues to inform how Canada responds to new invasive species such as the emerald ash borer and hemlock woolly adelgid.
Climate change is a major accomplice of invasive species
Climate change makes the challenge of responding to invasions more difficult. Canada knows it is at risk of invasions from places with a similar climate, yet climate change modifies the rules of the game. For example, climate change may make parts of Canada warmer and more suitable to species that were previously unable to establish here because of cooler temperatures. Several invasive insects, such as the spongy moth, are indeed controlled by diseases that can be less effective under warm and dry conditions. Warmer winters also mean a better survival of the eggs that start outbreaks each spring.
Many invasive species already do well in Canada because they lack some of the predators and diseases that control them in their native range. However, climate change stresses trees and forests, making them more susceptible to attack and less able to respond. Trees in urban areas are especially affected by drought, making them more susceptible to insects such as the emerald ash borer and birch leafminers. When trees and forests are stressed, they are also less able to defend themselves against diseases such as oak wilt and beech bark disease.
One predicted effect of climate change is changes in global circulation patterns, which can result in more unpredictable weather and extreme weather events. One such effect is the change in the location, frequency or intensity of polar vortex events, when cold arctic air descends into southern Canada. These events can cause significant mortality to overwintering insects such as the emerald ash borer and the hemlock woolly adelgid. Climate change can thus make the impacts of these established invasive species more difficult to predict.
Portrait of an invader
Name: Southern pine beetle
Status: Native species expanding its range towards Canada
Feeds on: Pines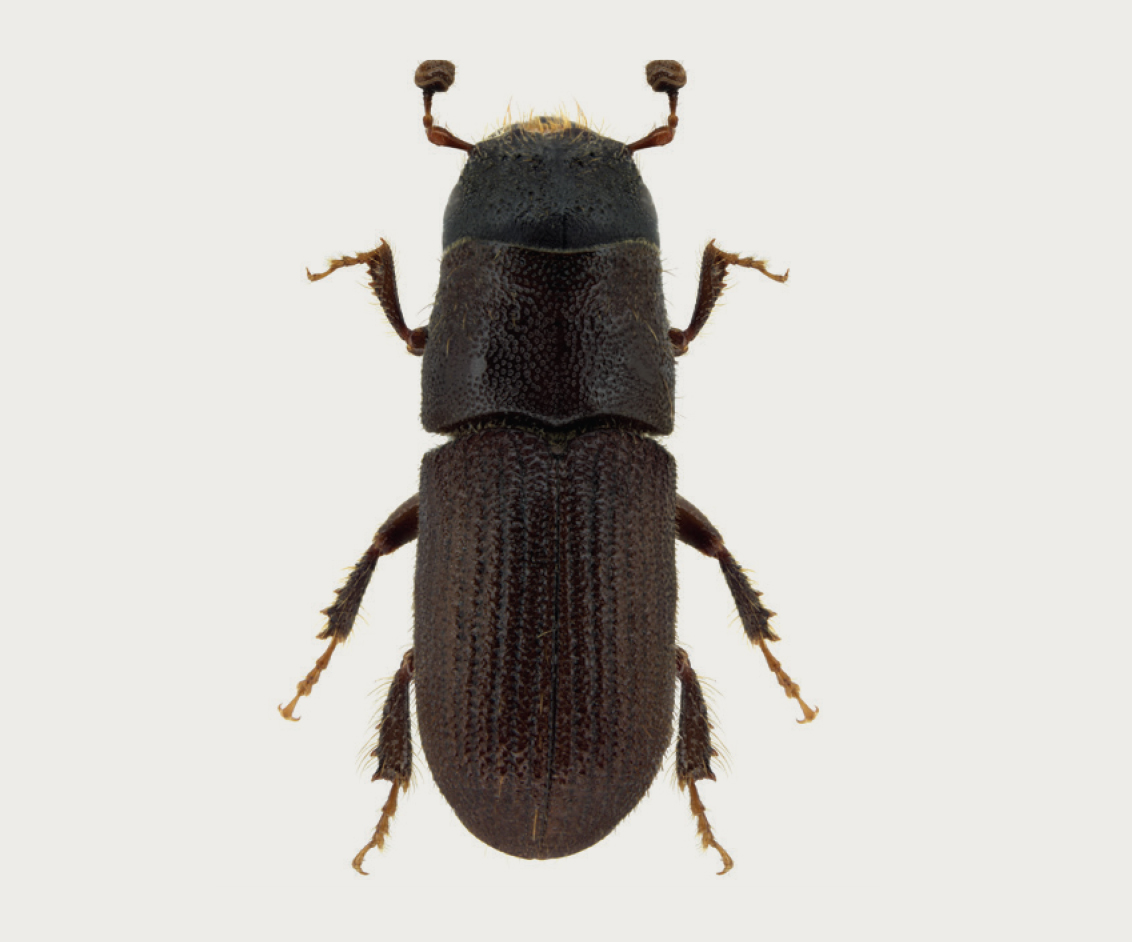 Canada has already experienced range expansion of mountain pine beetle across the Rockies and into the boreal forest. This was partly a result of successive mild winters that led to increased beetle populations in British Columbia that then breached the Rockies into northern Alberta. In the United States, climate warming has allowed a relative of the mountain pine beetle, the southern pine beetle, to expand its range into New Jersey and New York. This species could eventually threaten Canada's southern pine forests in Quebec and Ontario.
Portrait of an invader
Name: Spongy moth
Status: Invasive alien species
Feeds on: Hardwood species, including oaks and maples, but also on conifers
The spongy moth expanded its range into Canada in the 1960s from the United States, where it was introduced in 1869. Climate change will modify the way this species affects our forests. The fungus that helps control this insect will be less effective if the spring-summer weather is warm and dry. Warmer winter temperatures can lead to an increased survival rate of the eggs, but greater egg mortality could occur if snow depth is reduced (lack of insulation). Some of these effects can already be observed. For example, Ontario experienced its largest outbreak of spongy moth in 2021 when the insect defoliated an area the size of Lake Ontario.
As the forest changes, so will our way of managing invasive species
Adapting to invasive species will require us to understand which species may arrive, how the ability of trees to respond will be impacted, and how forest management can mitigate those impacts. The best way to save trees is to prevent invasives from arriving in the first place. Canada Border Services Agency (CBSA) and the Canadian Food Inspection Agency (CFIA) inspect imports to intercept invaders at the border. Should an alien species get through the border, the CFIA and provinces conduct annual surveys to detect, identify, and map the invaders. CFIA can also restrict people from moving infested material or the invasive species itself from infested areas. Once infested, trees can be cut and destroyed or treated with a pesticide to control the invasive species.
Diversifying the urban forest can help mitigate the impacts of climate change and invasive species by reducing the number of trees that are vulnerable to a particular invasive species. Following the devastation of the emerald ash borer, many communities in eastern Canada have replanted with more diverse urban forests and incorporated native species. This should help protect those forests from the impact of the next invasive species. The impacts of invasive species in natural and managed forests are more challenging to adapt to. Recent invasions by the hemlock woolly adelgid into Nova Scotia and Ontario have led to the examination of thinning (removing some trees so others can grow better) as one tactic to manage the pest in Canada.
Adapting to the dual impacts of climate change and invasive species will be challenging, and we can only guess at what some of those impacts may be. However, continued efforts to detect new invasive species and vigilance to prevent their introduction and movement will help protect Canada's forests, as will efforts to understand those impacts and develop new tactics to prevent them from occurring. We have been managing invasive species in our forests for almost 100 years; each new invasion teaches us something new and makes us better able to adapt in the future.