Casting
Contact Us
Dr. Delin Li
Innovative Casting Functional Group Leader,
Research Scientist
Telephone: 905-645-0778
Email: Delin.Li@canada.ca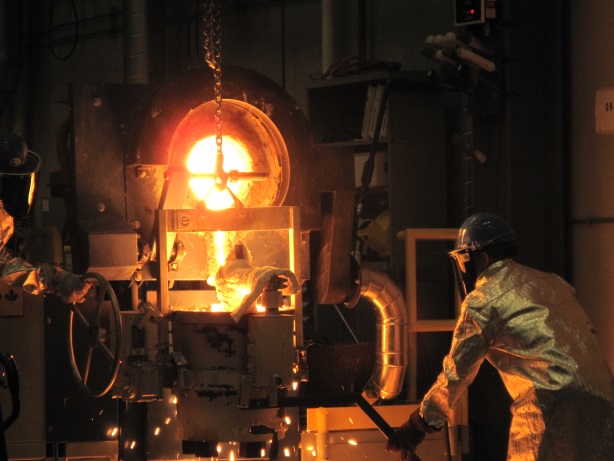 CanmetMATERIALS' Innovative Casting group provides solutions to challenges in the casting of ferrous and non-ferrous alloys. The core capabilities of the group include melting, melt processing, casting methods and heat treatment. In addition to conventional melting and casting equipment, the casting lab has state-of-the-art pilot-scale facilities such as a high-pressure die casting cell with auxiliaries for aluminum and magnesium alloys, a twin-roll casting system for sheet casting, as well as a vacuum induction melting furnace capable of melting steel and titanium. The group provides experimental support to the modeling community by developing databases for the computational modeling of solidification.
The state-of-the-art casting lab is capable of the following:
Melting of non-ferrous (aluminum, magnesium, copper and zinc) and ferrous (cast irons, steels) materials using air- and vacuum-induction melting (10 to 200 kilograms)
Casting through sand, permanent and investment mould processes
Melt processing (degassing, alloy additions, composition check)
Solidification monitoring (cooling curve analysis, differential scanning calorimetry)
Twin-roll casting for production of strip
An overview of CanmetMATERIALS' pilot-scale casting facilities can be found under Pilot-Scale Casting.