Water heaters - infographic
View or share this convenient graphic.
For more information on water heaters see our product profile.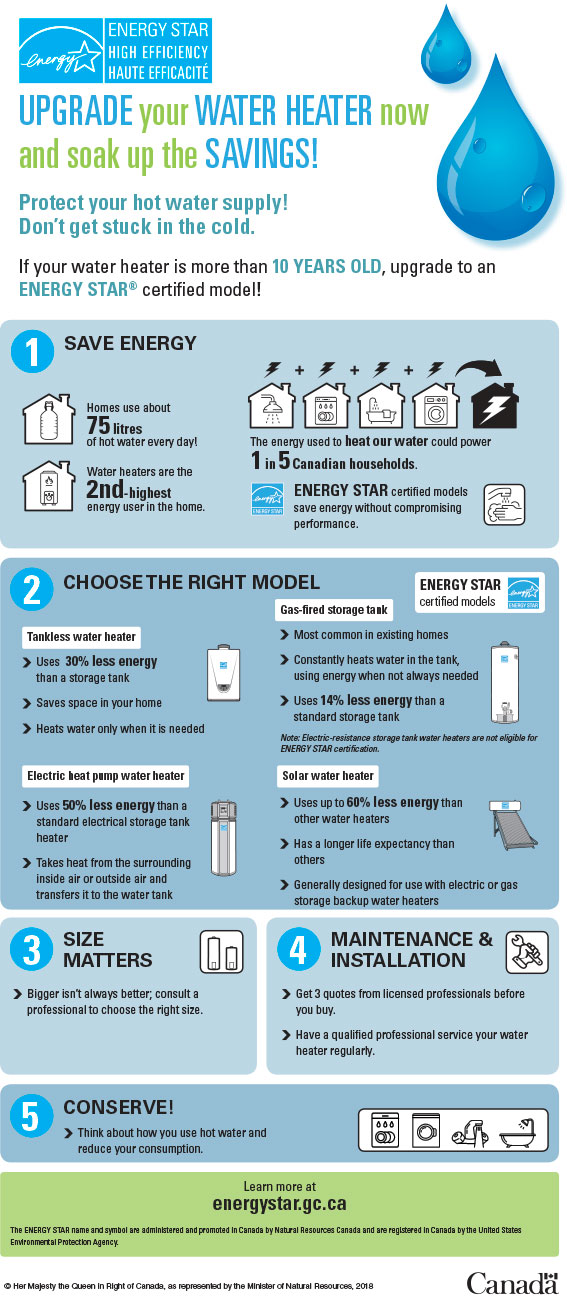 Text version

UPGRADE YOUR WATER HEATER NOW AND SOAK UP THE SAVINGS!

Protect your hot water supply! Don't get stuck in the cold.
If your water heater is more than 10 years old, upgrade to an ENERGY STAR certified model!

SAVE ENERGY

Homes use about 75 litres of hot water every day!
Water heaters are the 2nd-highest energy user in the home.
The energy used to heat our water could power 1 in 5 Canadian households.
ENERGY STAR certified models save energy without compromising performance.

CHOOSE THE RIGHT MODEL

ENERGY STAR certified tankless water heater:
Uses 30% less energy than a storage tank
Saves space in your home
Heats water only when it is needed

ENERGY STAR certified gas-fired storage tank:
Most common in existing homes
Constantly heats water in the tank, using energy when it is not always needed
Uses 14% less energy than a standard storage tank

Note: Electric-resistance storage tank water heaters are not eligible for ENERGY STAR certification.

ENERGY STAR certified electric heat pump water heater:
Uses 50% less energy than a standard electrical storage tank heater
Takes heat from the surrounding inside air or outside air and transfers it to the water tank.

ENERGY STAR certified solar water heater:
Uses up to 60% less energy than other water heaters
Has a longer life expectancy than others
Generally designed for use with electric or gas storage backup water heaters

SIZE MATTERS

Bigger isn't always better; consult a professional to choose the right size.

MAINTENANCE and INSTALLATION

Get 3 quotes from licensed professionals before you buy.
Have a qualified professional service your water heater regularly.

CONSERVE!

Think about how you use hot water and reduce your consumption.

Learn more at energystar.gc.ca.

The ENERGY STAR name and symbol are administered and promoted in Canada by Natural Resources Canada and are registered in Canada by the United States Environmental Protection Agency.