Integrated Energy Systems Lab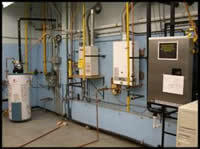 CanmetENERGY works with industry at the Integrated Energy Systems (IES) laboratories to develop advanced techniques and technologies for:
highly energy-efficient and low emitting combustion processes for residential and commercial applications
small-scale distributed power systems
community energy and district heating systems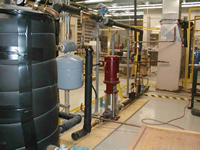 On the residential side, activities involve increasing the real, total energy efficiency (including electricity use) of furnaces and alternative water heaters, space heaters, energy-efficient fireplaces and optimal heat distribution. Our experts test equipment with a wide range of fuels including natural gas, No.2 oil, wood, and bio-fuels including alcohols and dual-energy-source equipment.
An area of major interest is integrated technologies that provide multiple functions from one energy source, such as ultra-high-efficiency present and next-generation systems combining space heating, water heating and ventilation, such as the ēKOCOMFORT  systems.
Further integration includes the generation of electricity with novel concepts such as thermophotovoltaics, thermoelectrics, Stirling engines, fuel cells and novel gas lighting concepts, along with incorporation of renewable energy sources. Advanced, learning-based control strategies are being applied to a number of these systems.
For larger buildings, there are significant opportunities to increase the energy efficiency of combustion systems. Activities are underway to characterize operational conditions, develop appropriate performance test procedures for seasonal efficiency and guide development of new, high efficiency equipment, with emphasis on unit and infra-red heaters, rooftops, and condensing boilers.
The efficiencies and concept designs of combined heat and power technologies, waste gas applications and microturbines are also tested for applications ranging from remote locations to city centres.
For community energy systems, the IES laboratory's simulated small-scale district heating system allows for the testing of energy transfer station designs. A test loop examines optimal means of distribution and heat extraction in low exergy systems.
Aside from developing and/or improving the equipment performance, the IES team is developing new draft efficiency performance standards for all these types of equipment. As well, they have written a large number of consumer guides for residential combustion equipment.
Measurement Capabilities
Flue gas measurement capabilities include the continuous measurement of CO2, CO, O2, NOx, SO2 and well as particulates, trace metals, heavy organic compounds and species determination. Capabilities also include accurate metering of gaseous and liquid volumetric and mass flows and temperatures. Continuous data logging equipment, coupled to high speed computing systems are used to collect and analyze the experimental data, from either on-site or remotely, from field experiments. Automated control systems allow precise running of standard and non-standard complex operating cycles of equipment to determine real performance potential and opportunities for system optimization.
Managed by CanmetENERGY at the Ottawa (Ontario) Research Centre.