Spring into energy savings
As the warmer weather approaches and heating demands are reduced, it's the perfect time to take your home energy efficiency to the next level. Spring-start your energy savings with these upgrades and green-living tips.
—
As the seasons change, so does the way we use energy. Nip high household energy consumption in the bud this spring and save energy with these green tips and home upgrades. You'll give a new meaning to the term 'green thumb' once you see your energy savings bloom.
Upgrade your thermostat
Refresh your at-home energy savings by investing in an ENERGY STAR® certified smart thermostat. A smart thermostat makes saving energy simple, and can help you understand how and when you're using energy. With a smart thermostat you can control the temperature of your home and manage your consumption with just a few clicks on a smartphone. These thermostats are also able to detect and learn your temperature preferences to establish a schedule that will automatically adjust the temperature to help you save energy. Check out this blog to learn more about the benefits of a smart thermostat.
Get the most out of your windows and doors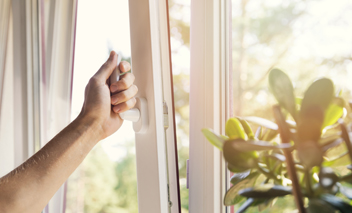 As the days become warmer, take advantage of the natural sunlight and open your curtains and blinds. This is an easy, cost-free way to heat your space naturally. If it's warm enough outside, open your windows to let in the fresh air and give your heating system a break.
Up to 35% of your household energy use can be lost through inefficient windows, doors and skylights. If your windows or doors are drafty, warped or have condensation, it's time for an upgrade. Replacing all of your windows with ENERGY STAR certified windows can save you an average of 45% on your energy bills and an ENERGY STAR certified door is up to 25% more energy efficient than a standard door. You can reap the energy-saving benefits of this upgrade year-round and increase your home's overall comfort. Learn more about choosing energy-efficient windows in four easy steps.
Get smart with your lighting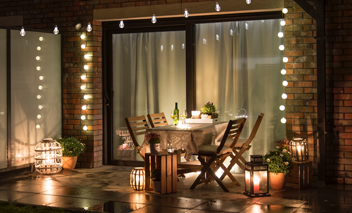 Patio season will soon be here, making this the perfect time to tend to the lighting in your backyard oasis. As the days get longer, remember to change the timers on your automatic outdoor lights. Ready to take your energy efficiency one step further? Invest in motion sensored outdoor lights so they turn on only when needed and you can enjoy effortless energy savings.
You can make your personal backyard patio Pinterest perfect with ENERGY STAR certified decorative light strings. ENERGY STAR certified models save, on average, 75% more energy and last 10 times longer than standard models. Some models even have dimming and colour shifting options available!
Cook up some energy savings
Cook meals in large batches and reheat leftovers in the microwave – it is far more efficient than using the oven. Here's another idea, skip cooking altogether! Try switching up the menu with an uncooked meal like a salad, smoothie or sandwich to save energy. Save even more in the kitchen with these tips.
Another great way to save energy is to use your outdoor grill instead of the oven when possible. That way, you can keep your home temperature and energy use low while you turn up the level of fun with a barbeque.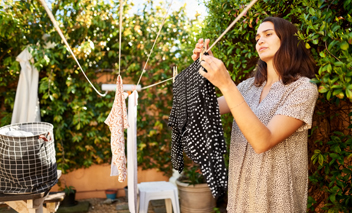 Make laundry day efficient
Wash clothes in cold water and skip the dryer entirely! Instead, try hanging them to dry on an outdoor clothesline or, on rainy days, opt for a drying rack indoors to save on energy costs. To take your energy savings even further, invest in an ENERGY STAR certified washer and dryer to save year-round.
Learn more and connect with us
Looking for more tips on energy efficiency? Follow ENERGY STAR Canada on Twitter, Facebook, Pinterest and LinkedIn to maximize your energy savings and get the latest on energy-efficient products.