Manage your home office energy like a boss
Whether you are working from a home office, kitchen, living room or basement, we have energy efficiency tips to help you cut those utility bills and do your part to save the planet.
—
Many Canadians have settled into a new routine of working from home. This comes with many challenges such as using new technologies, managing embarrassing 'un-muted' moments and an increase in home energy use. Most of us have had to forego our usual routines of turning lights off and programming our thermostat to save energy throughout the day. This increase in energy use is not only putting a strain on our wallet but on our planet as well. Here are some helpful tips to take charge of your energy use like a home office boss.
Turn off and unplug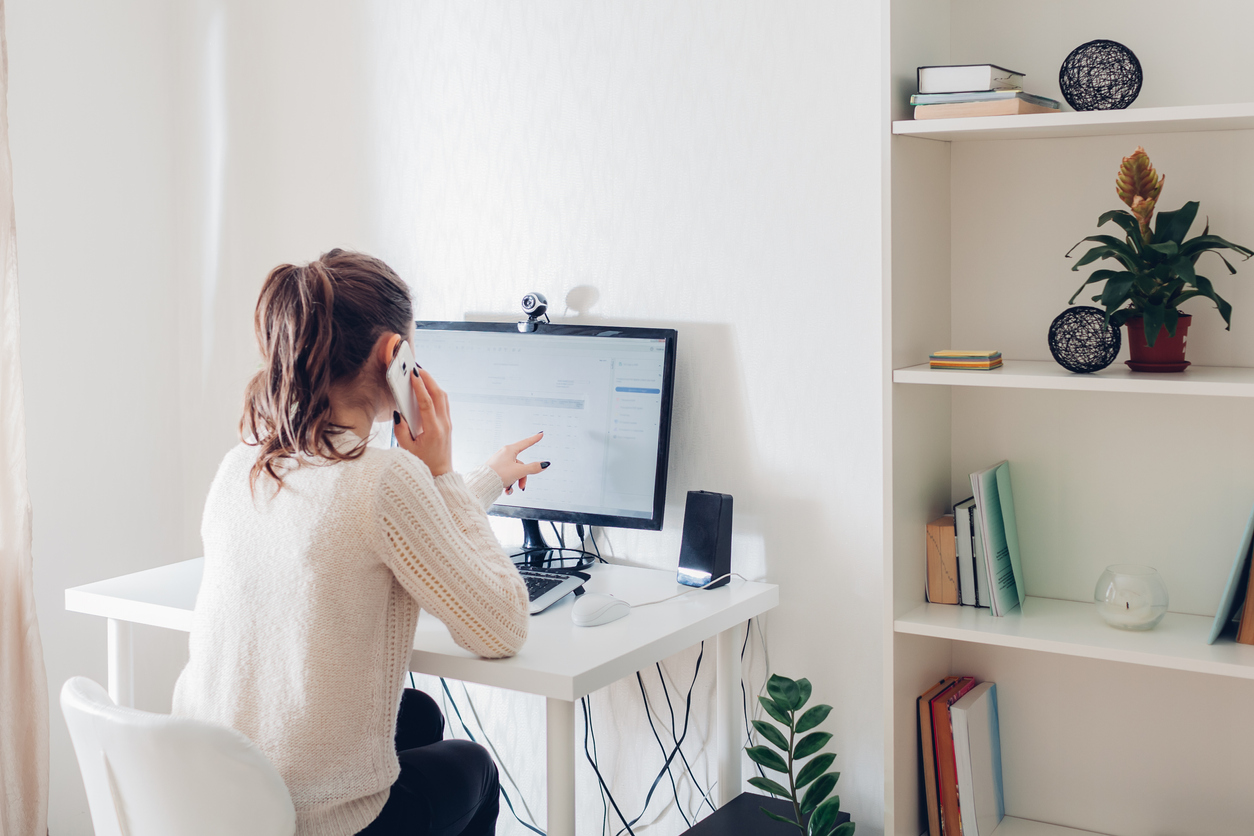 You might not be able to unplug your neighbour's dog barking or your spouse's Zoom call, but you can unplug electronics and small appliances that might use unnecessary energy when not in use, like your phone charger and your printer. This will help save energy and reduce standby power, which can account for up to 10% of your utility bill! While you're at it, remember to turn off all unused lights, monitors and other electronics when not in use to minimize your energy use and help save money.
Take your efficiency one-step further by plugging your home office equipment, like your laptop, monitor, desktop and any other equipment into a smart power bar. When the end of the day rolls around, you can clock out, turn off your office with the flick of a single switch and know you are not using energy when you don't need to.
Cozy up before you crank it up
Keep a blanket close to your workspace – and no, it's not for a nap break. If you get a little chilly throughout your workday, throw a blanket over your lap. We promise… no one will notice in your Zoom meetings. Having a blanket close by is an alternative to using a space heater or turning up the thermostat.
Pro Tip: Invest in an ENERGY STAR® certified smart thermostat for maximum energy savings.
Activate eco mode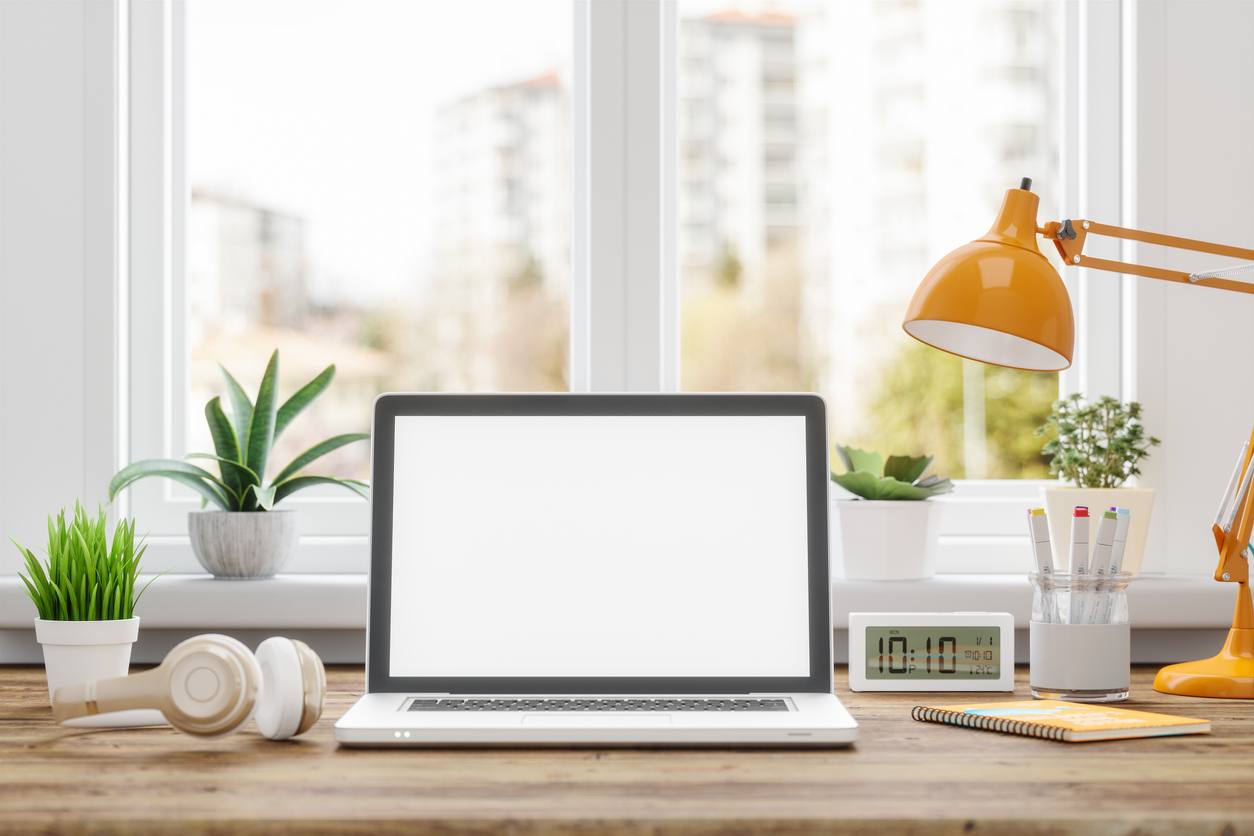 Get the most out of your electronics and take advantage of their energy saving settings. While working from home, activate "eco" mode on your laptop to minimize your energy use and extend your battery life. No "eco" mode? Set your computer to activate the sleep setting after 15 minutes of inactivity and lower the brightness of your screen.
Pro Tip: While it might be fun to set your screen saver to a photo of your pet, keep your background blank. Not only does a screen saver draw power from the monitor, it can also keep your computer from shutting down. So skip the screensaver and let your computer sleep while you stare at puppy pictures on your phone.
Let the sun be your guide: turn off the lights
Since you're no longer stuck in a cubicle, set yourself up in a space with lots of natural light. Open up the curtains and allow the sun to brighten up and help naturally warm your home office. Not only will you be able to save energy; you will also feel refreshed by the natural light and the nice view!
Pro Tip: Rainy or cloudy day? Opt for task lighting rather than overhead lighting. Turn on your ENERGY STAR certified desk lamp to light the space you need – ENERGY STAR certified LEDs use up to 90% less energy than incandescent light bulbs, and last at least 15 times longer.
Are you ready for more energy savings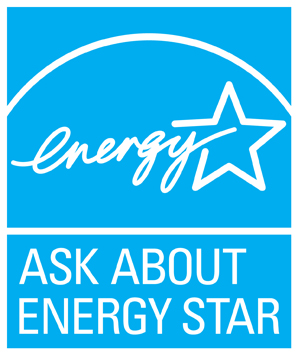 Look for the ENERGY STAR symbol
The office is no longer a dull-looking building in the city, nowadays it is your kitchen, living room, bedroom or home office. Equip your space (whatever that may be!) to work for you and maximize your energy savings. Manage your plug load by purchasing ENERGY STAR certified office equipment. These products save energy through efficient design and power management options. They use less energy to perform regular tasks, and when not in use, automatically enter a low-power mode. They will help you save on utility bills and reduce your carbon footprint.
Learn more and connect with us
Looking for more tips on energy efficiency? Follow ENERGY STAR Canada on Twitter, Facebook, Pinterest and LinkedIn to maximize your energy savings and get the latest on energy-efficient products.