Digital signage
Buy ENERGY STAR® to save you money!
An ENERGY STAR certified digital signage display is 4% more efficient, on average, than standard models. Saving energy saves money and reduces your carbon footprint.
Key features
More efficient and cooler-running panel technologies that save energy
Offer all the features and functionality of conventional models
For displays that have "off" mode, power is less than 1 watt
Start your research on ENERGY STAR certified digital signage displays using the ENERGY STAR Product Finder tool to find and compare certified signage displays (NOTE: you will be redirected to the US ENERGY STAR website. Click on 'Signage Display' under 'Display Type' when searching).
Who uses digital signage?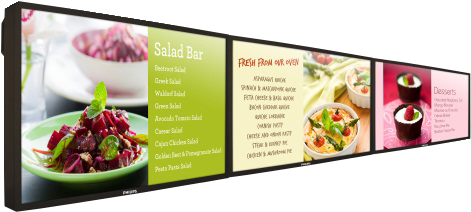 From conference rooms to restaurants, digital signage displays are a useful tool to promote your products, present information and show company branding.
Offices – in boardrooms or lobbies
Airports – to display flight information
Restaurants – menu boards
Retails shops – video walls, advertising
Higher education
There are different types of signage displays that differ in cost, lifespan and other features. Some common features include:
Touch screen
Video wall compatible
Ability to host computer/graphics cards
PC inputs, serial ports, USB etc.
Tougher enclosures (e.g. to withstand high heat of grease on menu boards)
Portrait orientation
The ENERGY STAR Promise
All ENERGY STAR certified products are tested to meet strict efficiency specifications and are certified by an independent third party. They perform the same as or better than standard products without compromising performance in any way.
Connect with us
Follow us on any of our social media channels for energy-efficient tips, rebates, giveaways and much more.
---
The ENERGY STAR name and symbol are trademarks registered in Canada by the United States Environmental Protection Agency and are administered and promoted by Natural Resources Canada.