Why use a cold climate air source heat pump?
Canada's cold climate means that space heating accounts for over 60% of the energy used in the average Canadian home. Making the switch to more energy-efficient heating equipment such as a cold climate air source heat pump can save energy and reduce your utility bills and carbon footprint. On average, homeowners who switch from oil to cold-climate heat pumps to heat their homes could save between $1,500 and $4,700 per year on home energy bills.
How does a heat pump work?
A heat pump is a very efficient and economical way to heat and cool your home for year-round comfort. It runs on electricity and uses the thermal energy (or heat) that is already in the environment to heat or cool your home. In cold weather, it extracts heat from the outside air and projects it inside. In hot weather it extracts the heat from inside your home to the air outside. Since a heat pump transfers thermal energy (versus a furnace or an electrical baseboard, which converts other sources of energy to thermal energy), it offers a higher energy efficiency, potentially saving on energy costs and your carbon footprint.
What you might not know, is that you already have a heat pump in your home. Your fridge keeps your food cool by using a heat pump. It extracts the warm air from inside the fridge to keep the temperature cool.
Cold climate air source heat pumps
Cold climate air source heat pumps have been designed to work in lower temperatures well below freezing and can now work down to –25°C temperatures. This is possible because there is thermal energy available in the air, even in very low temperatures. For example, air at -18°C still has 85% of the thermal energy as air at 21°C. These systems are also capable of switching to a cooling mode.   
Switching from an oil heating system to an electric cold climate air source heat pump can save you money. This can also dramatically reduce your greenhouse gas emissions and your carbon footprint.
Cold climate air source heat pumps vary in size and configuration. A mechanical system contractor will help with determining what are the heating and cooling requirements of your home, explaining the economics of purchasing and operating a cold climate heat pump in your area, and estimating the potential savings you can achieve. Your mechanical contractor can help you select the best system for you, to save money and reduce your carbon footprint.
Back to the Oil to Heat Pump Affordability program
More resources on heat pumps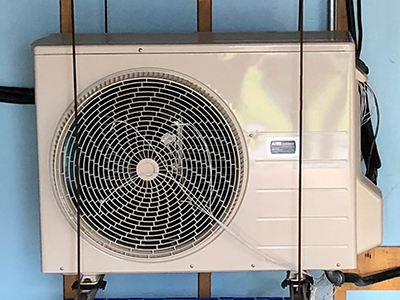 What are heat pumps? How do they work? Why is everyone talking about them? Are they right for you? Listen to find out.
Learn more about heating and cooling with a heat pump
Resources for applicants
Need a loan for your retrofit?
The Canada Greener Homes Loan is an interest-free loan of up to $40,000 with a repayment term of 10 years, open to homeowners who have an active application (at the pre-retrofit stage) with the Canada Greener Homes Grant.
Learn more about how to apply for the Canada Greener Homes Loan
Contact Us
Business hours
Monday to Friday: 8:00 am to 8:00 pm (Eastern time)
Oil to Heat Pump Affordability program inquiries:
Canada Greener Homes Loan inquiries