Applied Technology Research for Communities and Infrastructure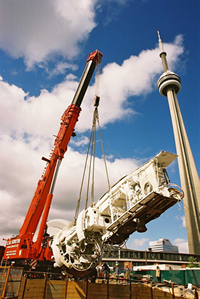 As Canadian communities grow, it is crucial that energy considerations become part of the planning and design. At CanmetENERGY, our team of experts helps to accelerate the deployment of innovative technologies and solutions that will reduce the energy required by Canadian communities without sacrificing a modern, urban and mobile lifestyle. Our research, demonstration and deployment activities foster national initiatives for more sustainable community and neighbourhood planning and development practices in Canada.
Our researchers support municipal stakeholders and developers with the development and implementation of community energy planning and initiatives for communities all across Canada.
Our current activities include:
The development of a model sustainable planning process for municipalities and developers.
Encouraging the incorporation of the CanmetENERGY Community Energy Planning Guide in municipal energy planning.
Baselining community archetypes (see our urban archetypes project) and current practices in community design to determine energy and GHG impacts.
Developing practical decision-support tools for municipalities and developers based on holistic design principles.
Encouraging district energy solutions, such as district heating and cooling, for urban/suburban applications.
Fostering and encouraging pilot projects across Canada that improves the sustainability of Canada's community and neighbourhood development.
Development of indicators to quantify the economic and environmental impacts of holistic community and neighbourhood planning and construction.
Facilitating and developing expert networks in the public and private sector nationally and internationally in the area of sustainable communities and neighbourhoods.
Encouraging the use of the CanmetENERGY Community Energy Planning Guide in municipal energy planning.
We work in collaboration with municipalities and their planning staff, developers, utilities, federal and provincial government stakeholders and a range of non-government organizations (NGOs) and private industry partners. Many activities are delivered cooperatively with other government policy, program and technology groups within Natural Resources Canada such as the Office of Energy Efficiency, Canada Mortgage and Housing Corporation, Environment Canada, Transport Canada and the National Research Council.
Contact us to advance your community through involvement in our research.
Additional Resources: