Facilities and buildings with 50001 Ready Canada recognition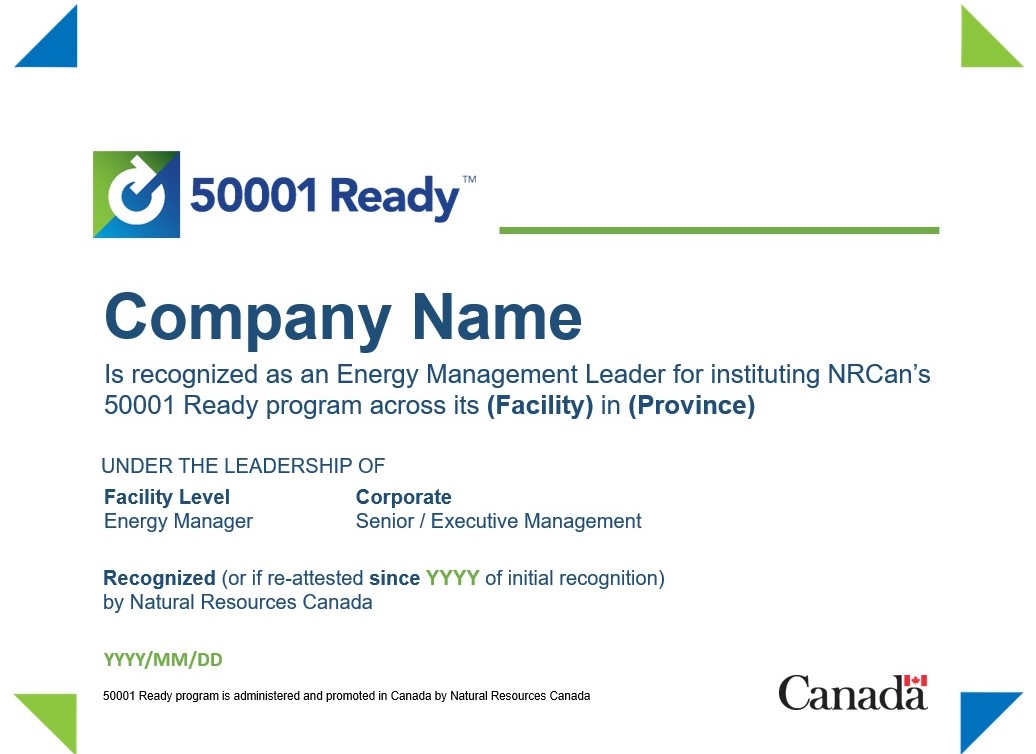 The 50001 Ready Canada program recognizes Canadian facilities and buildings that attest to the implementation of an ISO 50001-based energy management system. The program is a self-paced, no-cost way for facilities and buildings to build a culture of structured energy improvement that leads to deeper and sustained savings and does not require external audits or certifications.
Ready recognition does not indicate that a facility or building conforms to the ISO 50001 standard or that it will pass an ISO 50001 audit. However, a facility or building becoming Ready recognized is good preparation for ISO 50001 certification.
Participating in the 50001 Ready Canada program allows you to maintain and continually improve the performance of your facility or building. Facilities and buildings seeking 50001 Ready Canada recognition are required to complete the 25 tasks in the Navigator tool, a central component of the 50001 Ready Canada program. Also, they must submit a Self-attestation Form and Energy Performance Improvement Report to be registered by Natural Resources Canada as Ready recognized.
Showcase your success by renewing your recognition annually at no cost.
The facilities and buildings in the following list have achieved 50001 Ready Canada recognition.
| Organization name | Number of facilities or buildings | Year of most recent recognition |
| --- | --- | --- |
| General Motors Canada, Oshawa | 1 | 2022 |
| Yamaha Motor Canada Ltd. | 1 | 2022 |
| Alberta-Pacific Forest Industries Inc. | 1 | 2021 |
| Copol International Ltd. | 1 | 2021 |
| Mauser Packaging | 1 | 2021 |
Contact the 50001 Ready Team
For questions about the 50001 Ready Canada recognition requirements or the Navigator tool, contact NRCan at 50001Ready@nrcan-rncan.gc.ca.
Learn more about the 50001 Ready Canada program
Learn about ISO 50001