Exploration and Mining in Canada: An Investor's Brief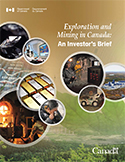 [PDF, 2 mb]
Natural Resources Canada's Lands and Minerals Sector (LMS) with input from the provinces and territories, other federal government departments, and a diverse group of external stakeholders recently prepared and released the Exploration and Mining in Canada: An Investor's Brief.
The Investor's Brief provides investors interested in Canada's mineral exploration, mining and metallurgical industries with useful information and appropriate contacts for more comprehensive queries.
The Brief is intended to help inform potential investors on Canadian mineral resource development legislation and regulations at the federal, provincial, and territorial levels. It explains Canada's regulatory and non-regulatory approaches to mineral resource development, identifies various responsible authorities across the country, and provides information about investing in, or acquiring, a Canadian exploration or mineral development project. It is a complementary tool to existing material and contains references to direct readers to sources of more comprehensive information.