Safe and Long-Lasting Zinc-Ion Batteries for Energy Storage
Lead Proponent
Salient Energy Inc.
Project Outcomes
As part of the Impact Canada Charging the Future Challenge, Salient Energy made significant advances on their their zinc-ion battery.
The Salient Energy's zinc-ion battery is similar to a lithium-ion battery but is made with lithium-ion substitute materials which are more abundant, much less expensive, and intrinsically safe. Its water-based chemistry makes it safe, with zero risk of fire and explosion. It is built with abundant, non-toxic, and ethically sourced materials that are recyclable.
Salient Energy demonstrated that their prototypes could be built with standard equipment, working with third parties which highlighted the cost efficiency of using zinc in batteries.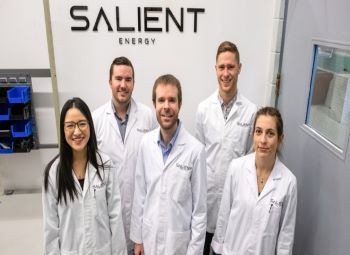 "This Challenge was transformational. We successfully built and validated commercial prototypes and also worked with 3rd party manufacturers to prove these prototypes could be built with standard equipment. Their work showed the significant cost savings that zinc-ion can unlock. There is endless opportunity for innovators in fighting climate change, and batteries are no exception."

– The team at Salient Energy