The Collection at National Air Photo Library
The National Air Photo Library's collection spans over 70 years of aerial photography in Canada. Imagery from various years can be found for most areas of Canada. Our standard product is a 25cm x 25cm (10" x 10") vertical aerial photograph contact print. Most of these photographs are monochrome (black and white), but some areas are available in colour or infrared. Each photo is cross-referenced to an index map or flight report that indicates the exact flight path and flight altitude, identifies film type, film number, photo centres, and specifies date, time of exposure, camera and weather conditions for that particular run. These photographs can be readily transformed into a variety of other products.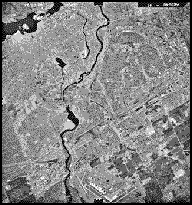 MONOCHROME PHOTOGRAPHY
Over 90% of the aerial photos that the National Air Photo Library has in its collection are monochrome (black and white). Monochrome photography is used primarily for mapping purposes.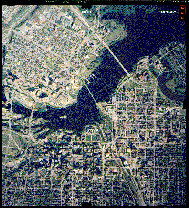 COLOUR PHOTOGRAPHY
Normal colour film, which registers colours as seen by the human eye, is often preferred for any application where identification of shapes must be made quickly and accurately. It helps to differentiate one type of tree from another in forest inventory, for example.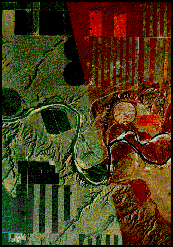 INFRARED IMAGERY
Monochrome near-infrared film produces a different image from conventional film because it is sensitive to near-infrared radiation. "False" colour infrared film registers the chlorophyll content of healthy vegetation in reddish tones rather than in actual green. It can be used to identify diseased or pollution-damaged plants and trees.
To find out more about Air Photo Enlargements, Custom Air Photo Mosaics and Digital Aerial Photography.
To locate air photos see the Earth Observation Data Management System.