Gas fireplaces—EnerGuide
The voluntary EnerGuide label
Gas fireplaces sold in Canada are rated for energy efficiency based on annual Fireplace Efficiency (FE).
The voluntary EnerGuide label that appears on manufacturer's product literature displays the model's FE as a percentage. Use this value to compare fireplaces; models currently on the market have FEs ranging between 30 and 70 percent.
The higher the number, the more energy efficient the model is.
The EnerGuide label is presented in one of two ways, depending on whether the product literature lists only a single model or multiple models.
Note that both labels show the statement "Based on CSA P.4.1-02." This statement demonstrates that the FE rating is based on the testing method that all gas fireplaces sold in Canada must adhere to.
EnerGuide label for a single model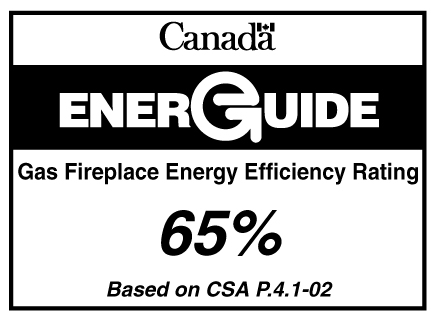 EnerGuide label for multiple models