A ready-made vehicle idling campaign
Short on time but keen to launch your very own idling campaign? Take advantage of the free, ready-to-use resources listed below.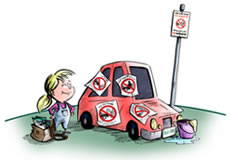 Simply review the materials, select the ones you would like to use in your campaign, and follow the instructions to download them. We've provided two types of ready-to-use graphic materials:
Low-quality format
Purpose: easy-to-use home/small business publishing
Usage: Web/Digital
File Type: 72 DPI.jpg
Size: 47 kb

High-quality format
Purpose: to produce professional high-quality output for printing or export the artwork for use in other applications.
Usage: Offset Printing
File Type: 150 - DPI.jpg
Size: 127 kb
"Idle-Free" licence plate logo. Add your community's name to the bottom of the logo and make it your own!
These idle-free images can be used on brochures, signs, posters and other printed materials.
Ready-to-use posters, suitable for display in the workplace, classrooms, community centres and other locations.
Brochures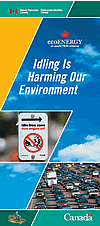 Add your logo and these brochures are ideal for handing out to employees or students.
Messages are being updated and the product will be available soon
These information cards outline the benefits of reduced engine idling and are suitable for distribution at schools and other community locations. (Source: Natural Resources Canada)
Stickers
Available in electronic format only
Available in electronic format only