Travelling with an electric vehicle
Canada's growing electric vehicle infrastructure network has charging stations from St. John's, Newfoundland and Labrador to Victoria, British Columbia, and more stations continue to be built across the country.
Planning a trip?
Use the electric charging and alternative fuelling stations locator to locate electric charging and hydrogen refuelling stations along your route.
Investing in cleaner transportation
With our private and public sector partners, we are supporting new charging stations for electric vehicles and refuelling stations for alternative fuels across the country.
Since 2016, Canada has invested a $1 billion to make electric vehicles (EVs) more affordable and chargers more accessible for Canadians. These investments are supporting the establishment of a coast-to-coast network of chargers along Canada's highway systems, as well as chargers in local areas where Canadians live, work and play. Federal rebates of up to $5,000 are helping more Canadians make the switch to an EV. The recently announced Emission Reduction Plan is providing a historic investment of over $3 billion in additional zero emission vehicle (ZEV) related funding to help Canada achieve its ambitious sale targets and further reduce emissions from the sector. This includes $400 million in additional funding for ZEV charging stations, in support of the Government's objective of adding 50,000 ZEV chargers to Canada's network. Canada's Infrastructure Bank will also invest $500 million in large-scale ZEV charging and refueling infrastructure that is revenue generating and in the public interest.
There are electric vehicles for all lifestyles
With a wide range of models and price points, buying an electric vehicle has never been easier. Right now, there are over 65 electric vehicle models available in Canada, with many more on the way.
Battery-electric vehicles (BEV) produce no carbon dioxide or other emissions during operation.
Plug-in hybrid electric vehicles (PHEV) are emissions-free when operating in electric-only mode, but they may have a greater overall driving range than BEVs
Many models have enough battery range to meet your daily driving needs when charged overnight.
Find out which vehicle is right for you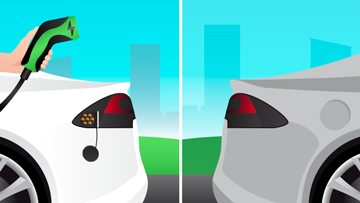 Electric vehicles are more affordable than ever
There are federal and provincial or territorial government financial incentives to encourage you to buy or lease an electric vehicle. Check out the programs available: