Guide to an energy-efficient holiday season
It's the most wonderful time of the year – and the most expensive! Make this season holly, jolly and energy-efficient without breaking the bank.
—
The holiday season has a funny way of filling our hearts and draining our bank accounts. Make this season energy-efficient without breaking the bank – we've got simple yet effective tips to help you and your family save money and energy.
Binge-watch holiday classics on a tablet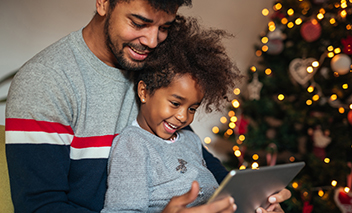 Make the switch to an ENERGY STAR® certified tablet and binge-watch your favorite holiday specials. These tablets are the most energy-efficient choice for streaming content AND they use significantly less energy compared to standard tablets, TVs, consoles or other streaming devices. Not only will you be able to enjoy as many holiday movies and cheesy series as your heart desires, you will save on energy and reduce your carbon footprint! Perfect for guilt-free consumption that's good for your wallet and the planet.
Smart power bars for a holly jolly home office
ENERGY STAR certified smart power bars are the perfect way to make a home office or study space more energy-efficient by reducing standby power! Although many people might not realize it, standby power consumption can make up to 10% of a household's energy use. Smart power bars make saving energy simple, just plug devices in and turn them all off with the flick of a switch.
LED light bulbs and decorative light strings to keep it merry and bright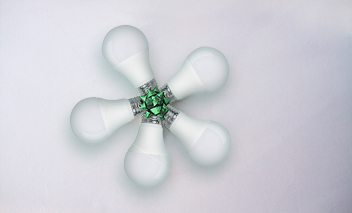 Brighten up your home and upgrade to ENERGY STAR certified light bulbs to save 90% more energy than standard models. This quick switch leads to bright savings at a lower cost, something you can enjoy year-round. Pro-Tip: these bulbs also make great stocking stuffers!
Step up your holiday décor and make your house or Christmas tree the brightest and most efficient on the block with ENERGY STAR certified decorative light strings.
Sound systems, so long silent night
Give yourself the gift of a not-so silent night. ENERGY STAR certified audio/visual products come with great sound and energy efficiency all wrapped into one. These products are the most energy-efficient models on the Canadian market, saving users up to a whopping 70% more energy than standard models. You can enjoy your favourite holiday tunes along with year-round energy savings.
Learn more and connect with us
For more savings, keep an eye out for sales on ENERGY STAR certified products on Boxing Day or participate in the 12 Days of ENERGY STAR campaign starting December 7th, 2020. For 12 days, ENERGY STAR Canada will be hosting a giveaway of energy-efficient products sponsored by ENERGY STAR Canada Participants. Follow ENERGY STAR Canada on Twitter, Facebook, Pinterest and LinkedIn to maximize your energy savings and get the latest on energy-efficient products.