What's a heat/energy recovery ventilator and why do I need one?
Want to keep the air in your home fresh while improving your home's heating efficiency? Learn about the many benefits of investing in an H/ERV to keep your home comfortable.
—
Do you ever feel like the air in your home is stuffy, moist or stale? Over the last 25 years, as building envelopes – meaning the design and construction of the exterior of the house – have become tighter, they also became less able to 'breathe' on their own and need fresh air. A heat or energy recovery ventilator, also known as an air exchanger, ensures that fresh air gets in to your home while keeping in the heat. If you're like most Canadians and spend a lot of time indoors in the winter, upgrading your homes ventilation system might be exactly what you're looking for.
The same, but different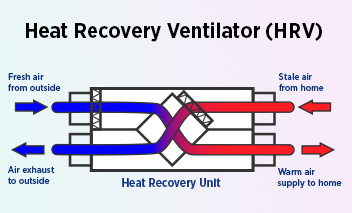 There are two types of ENERGY STAR® certified ventilation units: an HRV – or heat recovery ventilator and an ERV – or energy recovery ventilator. They are both designed to keep your home fresh and comfortable while keeping in most of the heat already in your home. Think of them as the breathing system for your home: in with the good, out with the bad. They're relatively new to mainstream home construction and it's easy to get them confused, but there is at least one key difference.
Let's clear the air!
HRVs and ERVs are very similar in that they both bring fresh outdoor air into your home and remove the stale air. The main difference is that HRVs use heat from the air being removed from your home to heat up fresh air coming into your home. It works the same way for cool air in the summer.
ERVs take things one step further: they transfer heat AND moisture so you have the desired level of humidity inside, no matter what's going on outside. Yes, even in Canada where over the course of the year, temperatures can range from -40°C and dry to +40°C and humid, an ENERGY STAR certified unit will keep you comfortable while being energy efficient!
Will I save money on utility costs?
Yes! These systems are the most effective way to ventilate a tightly built home and provide a fresh, healthy and comfortable indoor environment. Both systems will provide comfort and health benefits year round.
OK, I'm in! Which one do I need?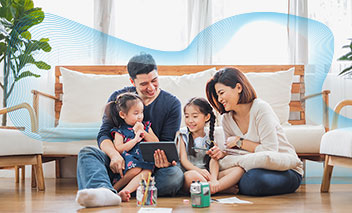 In the end, there is no "right choice". Canada is a very large country with diverse regional climates, so it depends on your climate, your home and your lifestyle. Based on the climate where you live, your health and comfort considerations, your local accredited HVAC contractor can help you choose the right H/ERV for your home. One thing is for sure - whichever you choose, make sure it's ENERGY STAR certified.
Learn more and connect with us
Looking for more tips on energy efficiency? Follow ENERGY STAR Canada on Twitter, Facebook, Pinterest and LinkedIn to maximize your energy savings and get the latest on energy-efficient products.