How to stay cool all summer
Staying cool on hot summer days can be tough on your wallet. These energy-efficient, low-cost summer tips will help you keep your home comfortable and your utility bills under control.
—
The temperature may be rising, but your utility bill can still stay cool! It might be tempting to blast the air conditioner, but it is better to create new low and no-cost habits that will help you save in the long run. These tips will help keep your home cool and comfortable, all while saving energy: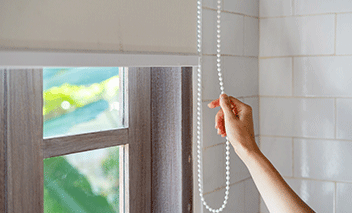 At night: Open your windows (if it's cool outside)
On cooler summer nights, turn off your air conditioner and open up your windows to let in the breeze. Natural airflow leaves you refreshed and can cool down your whole home without using energy.
During the day: Close your blinds and turn off the lights
Longer summer days are a wonderful opportunity to get outside for a healthy dose of vitamin D (but don't forget to wear your sunscreen!). While you enjoy the outdoors, keep your blinds closed and lights off inside your home during the day. The sunlight streaming through your windows combined with artificial lighting (especially if you have halogen or incandescent light bulbs) could generate enough heat to overwork your air conditioner.
Pro Tip: Replace old incandescent light bulbs with much cooler ENERGY STAR® certified LEDs. They last at least 15 times longer and cost less to use.
Make sure ceiling fans are in a counter-clockwise direction
This helps circulate the air in your home, helping you feel cooler. Bonus Tip: Use fans with your air conditioner to reduce your energy bill even more. Set your thermostat two degrees higher and use ceiling fans to circulate cool air. This can reduce your air conditioning costs by nearly 14%! Remember, fans only cool the occupants in the room by circulating the air so switch your fan off when you leave.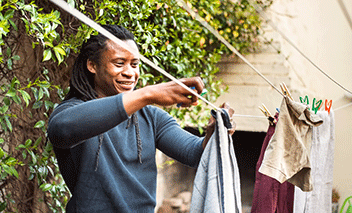 Dry on the line
Install an outdoor clothesline to let your clothes air dry to save energy. Your wallet will thank you AND you can enjoy that fresh laundry smell.
Invest an ENERGY STAR certified dehumidifier
Humid air will make you feel warmer (and it can wreak havoc on your hair). Get rid of excess moisture in your home and tame that mane with a dehumidifier! An ENERGY STAR certified dehumidifier will increase your home's comfort, while using nearly 15% less energy than a standard one.
Use your barbeque
Keep the temperature in your home down and turn up the fun by using an outdoor grill instead of turning on your oven. Nothing says summer like a good ol' backyard barbeque in the sun!
Learn more and connect with us
Looking for tips on energy efficiency? Follow ENERGY STAR Canada on Twitter, Facebook, Pinterest and LinkedIn to maximize your energy savings and get the latest on energy-efficient products.