High-Resolution Digital Elevation Model Mosaic: a new product to explore Canada in 3D!
December 10, 2020
Text version

Cube-shaped illustration of multiple elevation products offered through the HRDEM mosaic product.
Natural Resources Canada (NRCan) is pleased to announce the release of the High-Resolution Digital Elevation Model Mosaic (HRDEM Mosaic) product. This new HRDEM Mosaic product is part of the CanElevation Series created to support the National Elevation Data Strategy implemented by NRCan.
The HRDEM Mosaic product was developed for users to visualize and interact with the data produced under the strategy. Unlike the HRDEM product in the same series, where data is separated and distributed by each acquisition project, the mosaic is created to provide a single, continuous representation of data from the Strategy. The most recent datasets for a given area are used to generate the mosaic.
The coverage of the HRDEM Mosaic product will gradually increase as new HRDEM data becomes available. Here is an overview of various derived products generated "on the fly" and offered through the new HRDEM Mosaic product.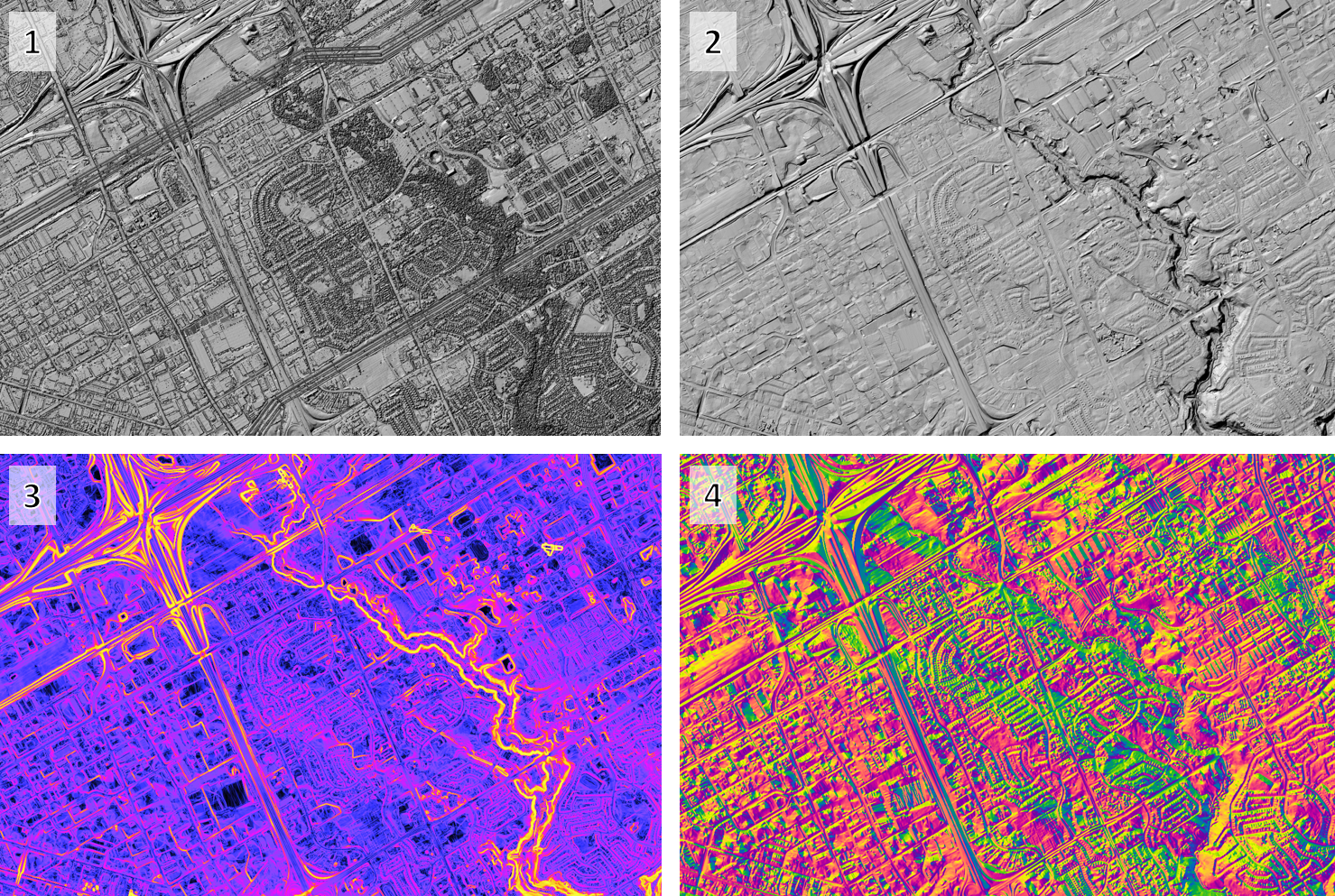 1- Hillshade of the Digital Surface Model 2- Hillshade of the Digital Terrain Model
3- Slope map 4- Aspect map
Explore the product!
The mosaic and its derived products are available as a Digital Terrain Model (DTM) and a Digital Surface Model (DSM) using WMS and WCS web mapping services. The WMS service facilitates the visualization of the mosaic and its derived products, while the WCS provides access to the source data.
Links to the web services are available on the Open Government website. It is possible to view the WMS hillshade directly in the Open Maps viewer when the "View on Map" option is selected. The WMS and WCS links can also be integrated into GIS applications.
Download the product specification for more details.
NRCan Data Cube Platform
This mosaic is distributed through the Data Cube Platform implemented by NRCan. This platform is a powerful and scalable system based on open technologies and implemented in a cloud-computing environment. The objective of the platform is to make large geospatial datasets and time series accessible to decision-makers, stakeholders and the general public through standardized web services. These technologies for managing and exploiting geospatial big data enable fast and efficient access and visualization of high-resolution geospatial data and allow the generation of on-the-fly derived products.