National Hydrographic Network
On this page:
---
The National Hydrographic Network (NHN) is a geospatial data product that describes Canada's inland surface waters. It is intended to produce flow analysis of water and networks, management of water and watersheds, in various applications related to environment and hydrography, as well as many mapping applications. The NHN is largely used as cartographic representation and display, and serves as base data in many applications.
The NHN is open, free and accessible through the Federal Open Government portal.
NHN content
Text Version

Example of a linear network, showing the surface water flow direction, through lakes and rivers.
The NHN is made of:
Geospatial data features such as lakes, reservoirs, rivers, streams, canals and islands.
A linear network, showing the directional flow of surface water and structured by watershed.
Place names (geographical names) associated with NHN features.
Downloadable data and web services.
NHN Applications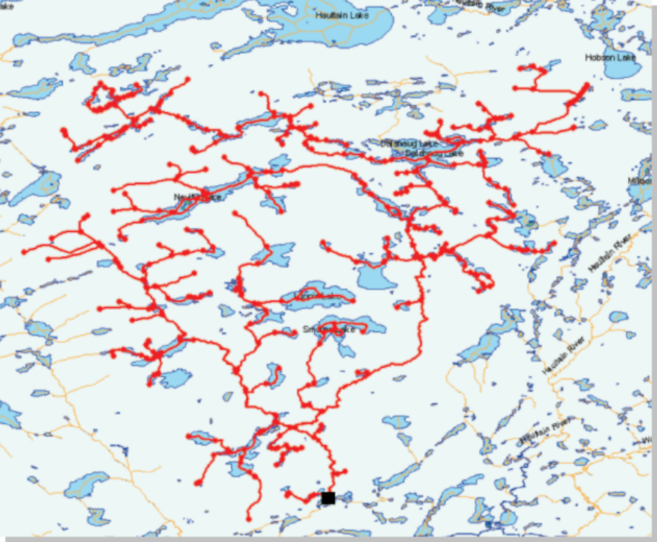 Text Version

Example highlighting of all branches of an upstream network, from a selected point.
The National Hydro Network (NHN) is designed to:
Allow water flow analysis.
Serve as a tool in managing and monitoring fresh water and drinking water supply.
Facilitate watershed management and species that live in them.
Strengthen the decision-making process during emergencies such as flooding or toxic spills.
Monitor floods or to minimize their damage.
Facilitate planning, e.g. the optimal location of a future dam or power plant.
Characteristics of cross-border NHN data
Water does not stop at borders. Management and analysis of water-related issues are effective when an entire drainage area is captured in the dataset, even if it crosses a border.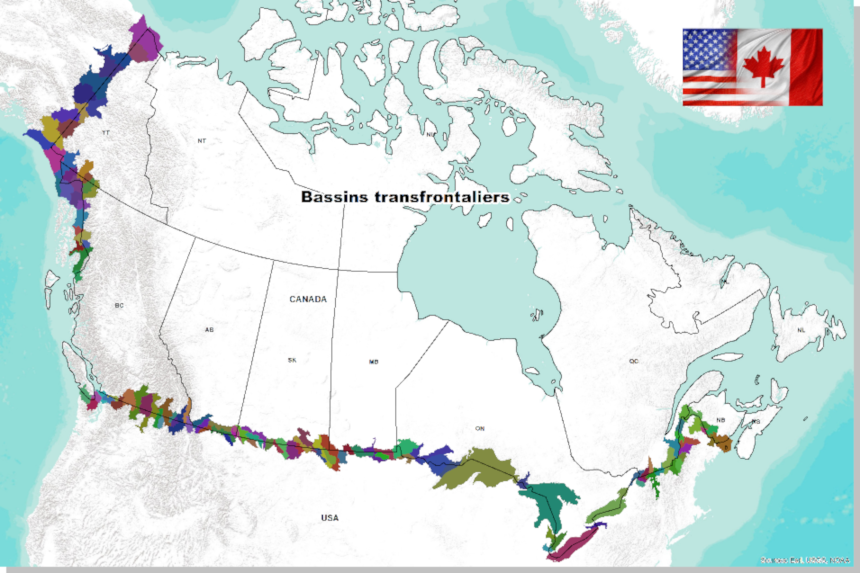 Text Version

North American territory, showing transboundary Watersheds between Canada and the United States. The partnership is demonstrated by an image of the Canadian and American flags blending into one.
To address this challenge, NHN data extends beyond the Canadian border. The parts located in the United States were created using high-resolution data from the NHD (National Hydrography Dataset) from USGS (United States Geological Survey).
NHD data has been aligned, converted, and integrated into the NHN, and therefore provides seamless data for Canada/US transboundary watersheds.
For more details on the harmonization of surface waters at the border, see Science and Activities.
Tools and applications
The NHN is used in other Natural Resources Canada products such as CanVec You can explore these products from the following tools: