Wind and Storage Demonstration in a First Nations Community, Cowessess First Nation
Lead Proponent: Cowessess First Nation
CEF Contribution: $2,788,000
Project Total:$6,851,000
Location: Cowessess, Saskatchewan
Project background
The Cowessess First Nation (CFN) reserve is located in the beautiful Qu'Appelle Valley, 15 km north of Broadview, Saskatchewan. There are presently 4010 CFN members, with approximately 836 living on-reserve and 3,174 living off-reserve. Community economic development, as well as education and training initiatives, helps to create employment and provide services and programs for its membership. Wind power presents an opportunity for First Nations to develop practical ways of wealth creation that will honor their traditions and collective ownership.
Southern Saskatchewan has one of the most extensive wind energy resources in Canada. In 2006, CFN enlisted the services of Saskatchewan Research Council (SRC) to perform a wind resource assessment for a site owned by the CFN, near the city of Regina. SRC installed a 50m anemometer tower to collect data over a period of one year. An average wind speed of 7 m/s (15 mph) at a 50-m height above the ground was recorded between March 2006 and February 2007, and it was determined that the wind resources at CFN's selected site were sufficient to support a wind turbine installation. To that end, CFN set out to design, develop and arrange financing for a reliable and durable wind-storage system, to be owned and operated by its members. Their project "Demonstration of High-Level Wind Turbine with Storage" was developed in partnership with SRC, and was awarded $2,788K from CEF.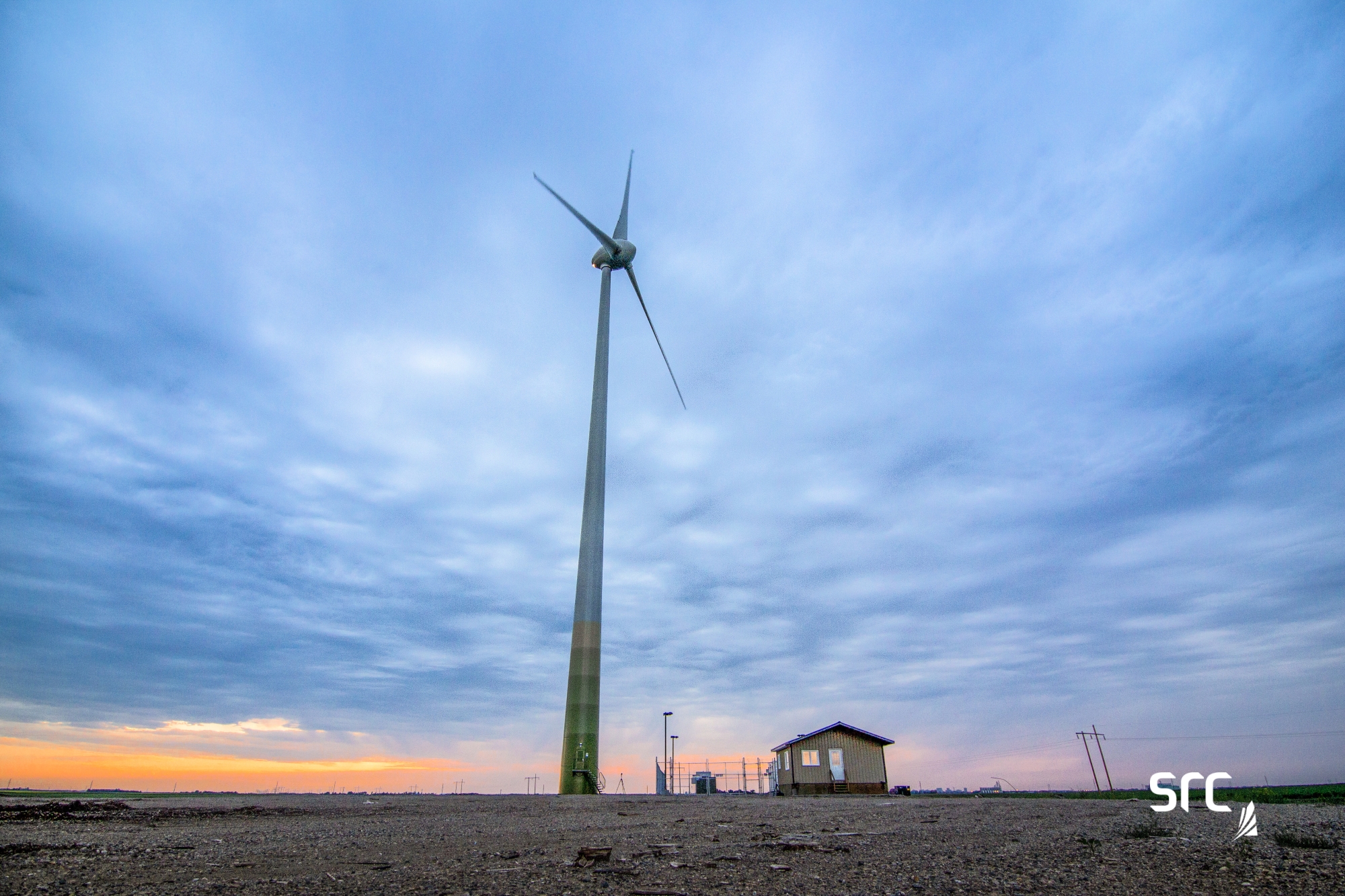 Results
In March 2013, a 800 kW Enercon E53 wind turbine was installed (73 m tower) on the project site – a CFN-owned parcel of land 4km east of Regina. Coupled to the Enercon turbine, were two Saft Intensium lithium-ion batteries, ABB PCS 100 inverters and a Cooper Power Systems transformer. Together, the two lithium-ion batteries contain 4,872 cells of nickel-cobalt-aluminum-lithium-ion and were housed inside two 6 metre long freight containers. The 400kW battery system was commissioned in April 2013 and was expected to provide 744 kWh of electrical storage.
The monitoring system consisted of electrical meters that measured energy and power at the grid connection (or point of common coupling), the turbine, the battery, the HVAC systems, and the site building (used for R&D). Specifically, battery performance including master and slave operation, state of charge, and operating temperature were closely monitored. Enercon used a separate Supervisory Control and Data Acquisition (SCADA) system to monitor the turbine.
From April 2013 to March 2014 year, the net energy production of the turbine and batteries on the three-phase system was 2,178 MWh. This did not include losses from the HVAC system (20 MWh) and building (62 MWh, for electric heating and lighting), which were connected to the single-phase system. Over the same period, turbine production was 2,229 MWh. Losses from the HVAC system, building, and battery reduced the net energy output of the site by 6% (relative to turbine production). Monitoring results showed that the battery was capable of smoothening the output of the turbine by 65% to 78%, firming the output of the system to its average power (275 kW) for 2 to 6 hours, and reliably time-shifting and dispatching at its maximum power (400 kW) for 1.5 hours twice per day.
Benefits to Canada
CFN has a power purchase agreement with SaskPower who pays approximately $100/MWh (escalates at 2% per year under the Green Options Partners Program) for electricity generated at the site. Increasing wind penetration would benefit all of Canada through emissions reduction. Moreover, the wind-storage system is replicable by other First Nations and has the potential to enable other First Nations communities to create renewable micro-grids.
Next Steps
CFN intends expand the capabilities of the site to include a 200 kW solar array and continue operating and monitoring the reliability and durability of the system over the next couple years. The new hybrid energy system will be further evaluated to show the benefits of the additional renewable source.
Please contact the ecoENERGY program to obtain a copy of the Cowessess Final Public Report.