Front End Engineering and Design (FEED) Study Whapmagoostui - Wind Hybrid Power Plant
Lead proponent: Nimschu Iskudow (NI) Inc.
Location: Whapmagoostui, Northern Quebec
ecoEII contribution: $ 700,275
Project total: $ 2,534,250
Project Background: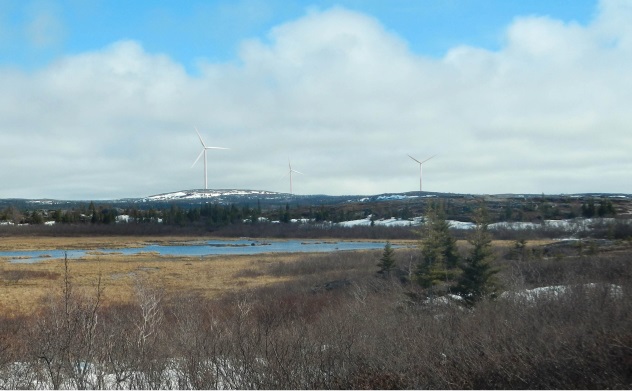 Whapmagoostui, "Place of the beluga", is the northernmost Cree community in Quebec. It is home to approximately 900 Cree, and is accessible by plane year-round or by boat during summer months. About 650 Inuit live in the neighbouring village of Kuujjuarapik. Neither community is connected to Hydro-Quebec's electrical network. Instead, power is supplied to both communities by a set of three 1.1MW diesel generators (gensets) owned by Hydro-Quebec. As with all communities dependent on diesel for power, escalating costs and environmental impacts have been an on ongoing concern. Furthermore, the gensets are approaching the end of their design life.
In view of the wind and biomass resources available throughout the region, Nimschu Iskudow Inc. (a Whapmagoostui First Nation company) proposed a new remote micro-grid system that could provide renewable power to both communities. The hybrid system would reduce the cost of generation, and improve power quality and grid stability. EcoEII contributed $700,275 towards a Front End Engineering and Design (FEED) study, to determine the technical and economic feasibility of such a system in northern conditions.
Results:
The FEED study compared two system designs – one with a 1MW biomass generator and the other without. Both systems combined three 1.5MW wind turbine generators, with diesel gensets and a 2MW x 1hour Battery Energy Storage System (BESS), but in slightly different configurations. A central controller was used to manage the power generating sources and optimize the operations of the micro-grid in both designs.
The study concluded that the addition of a biomass generator to the micro-grid system would produce a more stable and reliable network, but would require a more sophisticated control system to operate effectively. The cost of initial investment would eventually be offset by the benefits of lower diesel fuel consumption and pollutant emissions. Moreover, the study determined that any surplus wind energy could be used for new load applications such as space heating, further reducing the community's dependence on fossil fuel.
Benefits to Canada:
The study results, analysis performed and data gathered all contribute to a greater knowledge base for northern and off-grid communities across Canada that are working towards implementing renewable energy technologies. Renewable energy not only reduces their dependency on diesel, but could open the door to opportunities such as collective heating and heating of agricultural greenhouses. It is estimated that the plant will save 360,000 T of CO2 over its operating life of 20 years.
Next Steps:
A detailed study has been undertaken to optimize the topology of the system. Negotiations with Hydro Quebec for a Power Purchase Agreement are ongoing.