Commercialization of Lowest-Cost, Long Duration Energy Storage Systems
Congratulations! E-zinc has been selected as the winner of the Charging the Future Challenge!
Lead Proponent
e-Zinc
Project Outcomes
As part of the Impact Canada Charging the Future Challenge e-Zinc developed a technology which decouples power from energy. e-Zinc's long-duration energy storage system is focused on coupling together with renewable energy generation to help achieve decarbonization goals at the grid scale.
The technology is based on 3 principles:
Using zinc metal as the energy carrier, which has a high energy density and is inexpensive.
The zinc metal is detached from electrodes allowing the metal to be stored independently at a low cost, unlike rechargeable batteries in which the energy-bearing metal is fixed on the electrodes.
The storage space is located within the same electrochemical cell as the charging and discharging electrodes, enabling a simple operation.

e-Zinc's energy storage system can cycle without degradation in capacity, is fire resistant, made of fully recyclable materials, and has a fast response time. Their solution could help increase the share of the world's energy markets powered by renewable energy. It can be used with clean energy generation technologies to replace diesel generation systems, which is particularly advantageous in remote locations not connected to an electrical grid.
e-Zinc won the $1-million dollar Charging the Future Prize, and was awarded $1.6M from Breakthrough Energy Solutions Canada in 2020.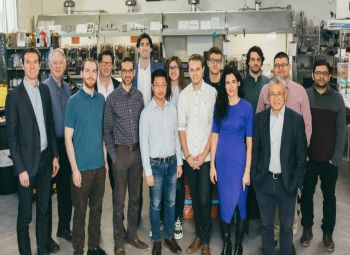 e-Zinc team
"The support from this Challenge has been essential for e-Zinc to build its first in-field energy storage system to demonstrate how its technology will play a part in the energy transition. e-Zinc has developed a breakthrough electrochemical technology for storing energy in zinc metal. This low-cost, flexible, and long-duration energy storage solution will provide the platform for the world's energy markets to be fully powered by renewable energy, enabling a zero-carbon energy future." – The team at e-Zinc