Alberta CO2 Purity Project (ACPP)
Lead Proponent: Petroleum Technology Alliance Canada (PTAC)
Project Chair: The Integrated CO2 Network (ICO2N)
Location: Calgary, AB
ecoEII Contribution: $ 525,000
Project Total: $ 955,000
Project Background: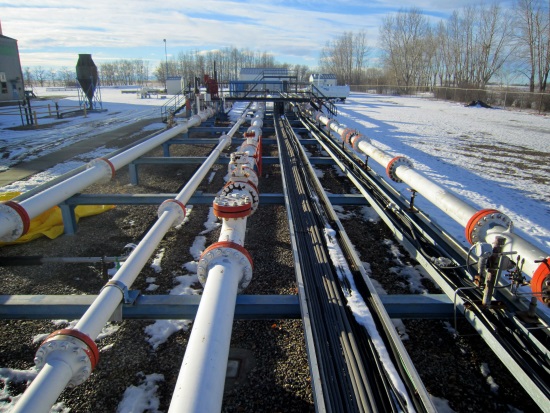 Carbon capture and storage (CCS) is the process of capturing carbon dioxide (CO2) emissions from large industrial point sources, transporting and then depositing the CO2 into selected underground formations (either oil reservoirs or deep saline aquifers), for long-term storage. CCS is one of a number of potentially effective technologies for dramatically reducing the amount of CO2 released into the earth's atmosphere.
CO2 that is captured from industrial sources is not pure and can contain many impurities. There are a large number of discrete carbon capture technologies, and each technology results in a unique CO2 purity and contaminant profile. CO2 purity can impact a number of CCS system operating parameters, including: the phase behaviour of CO2, conditions under which pipeline transportation can occur, as well as the technical feasibility of enhanced oil recovery (EOR) and direct CO2 storage.
The Alberta CO2 Purity Project (ACPP) was a first-of-its-kind assessment of CO2 purity not only in Canada, but worldwide. Purity specifications had never been evaluated across the entire chain, and more importantly across an entire spectrum of impurities in combination. The project, led by PTAC Petroleum Technology Alliance Canada, examined four elements of an integrated CCS system: capture, transport via the pipeline, EOR, and direct CO2 storage or sequestration. EcoEII contributed $525,000 towards the project, to determine how the presence of impurities affects an integrated CCS system.
Results:
Phase 1 of ACPP identified contaminants that occur in significant concentrations, and that have the greatest effect on the four elements of the CCS value chain (capture, transportation, EOR and sequestration). The contaminants selected were culminated into six impure CO2 compositions typical of the capture and utilization scenarios, and most likely to take place in a Canadian context. In Phase 2, the impact of the six CO2 compositions on each element of the CCS value chain was determined. For example, through literature review, it was found that the higher the level of impurities, the higher the reduction in the flow capacity given the same pipeline inlet pressures and flow temperatures. Moreover, through laboratory testing, it was confirmed that impurities found in anthropogenic CO2 have a quantifiable, negative impact on oil recovery processes.
In Phase 3, a techno-economic model was developed. Technical parameters collected in the study were linked to costs and revenues, in order to quantify the effects of impurities on an integrated CCS system. The model allows the user to input parameters such as capture process, pipeline length, EOR/sequestration allocation, and see the effect of these inputs on the system. The globally unique techno-economic model can be used by government and industry to develop purity guidelines across the CCS value chain.
Benefits to Canada:
Understanding purity is crucial to the development of CCS in Canada. The development of purity guidelines and standards that are grounded in technical and economic analysis will allow CCS systems design to be optimized, drive down overall costs and influence the development of new technologies and front-end design for future projects. Strong "made in Canada" purity guidelines will provide a foundation for accelerated CCS deployment in Canada.
Next Steps:
Knowledge sharing is a key component of the project and will continue beyond project completion. Opportunities to present study findings at industry and academic gatherings will be pursued. Use of the techno-economic model to inform decisions made by industry and governments, as they relate to CCS in Canada, will be encouraged.