NRCan honours reconciliation as first federal department with a sector named in an Indigenous language
On March 29, 2022, Natural Resources Canada changed the name of the Indigenous Affairs and Reconciliation and Major Projects Management Sector to Nòkwewashk [No-kway-washk], one of several Algonquin words for sweetgrass. Nòkwewashk, led by Assistant Deputy Minister Angie Bruce, is home to approximately 145 employees within the department.
Nòkwewashk, the pronunciation:
The new name was gifted at a ceremony that followed several months of discussions with staff and resident Elders from the department's Circle of Nations, a gathering place for employees to learn about Indigenous culture, traditions and current reality.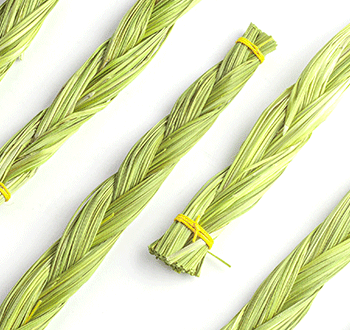 Sweetgrass
While Nòkwewashk is a seemingly simple word, the meaning bestowed with it by the Elders is multifaceted. Their teachings are intended to help employees better understand and truly respect its significance. The name reflects the sector's role within the department, as well as the responsibilities of individual Nòkwewashk employees. To take those responsibilities to heart, one must reflect on the teachings shared in the gifting of this name.
Nòkwewashk is one of the Algonquin people's sacred and powerful medicines, representing kindness. As soon as Nòkwewashk employees say the name, it should remind them to be kind to themselves, to NRCan colleagues, and to Indigenous partners.
The word "Kwe," embedded in the name, represents balance and is related to the teachings of the medicine wheel. Kwe also represents women's medicine, reflecting the department's efforts to bring diversity and inclusion, including a gender-based lens, to the work we do. It signals that we are on a journey to nourish equality, including gender equality, and reminds us that everybody belongs in the circle, including 2SLGBTQQIA+ people and those who see between.
In Algonquin, Kwe also means: "Hello, is it ok to come in and visit? Is it a good time?" So, Nòkwewashk reflects employees' openness to begin and, more importantly, the way to begin relationships with others: with care, with interest, with curiosity.
The imagery of Nòkwewashk also prompts employees to consider the earth, as sweetgrass represents the hair of Mother Earth. Nòkwewashk is gathered from the soil in a way that preserves the roots and enables sustainable harvesting—an evocative image for a sector of Natural Resources Canada.
It is then braided for use as medicine. The braid is made from three groups of seven strands, and the number three and the number seven are both meaningful.
A braid—a weaving of three equal parts—reminds us of the mind, body, and spirit connection in the self. It also represents the weaving of people past, present, and future: those who came before, the seven generations to come, and the public servants who respect the past and are preparing for the future. By itself, one of these strands may be weak. Woven together, the braid is incredibly strong.
Conceptualizing the sector as a braid of sweetgrass should also remind us of the work we do in connecting natural resources and Indigenous communities. Within the braid, one of the component parts of seven strands is staff's responsibility to weave the perspectives of youth, women, men, 2SLGBTQQIA+ people, Métis, First Nations, and Inuit with the other two component parts of the braid—policies/programs and natural resource sector partners. 
Moreover, the seven strands should remind us of the seven natural laws: Respect, Love, Courage, Honesty, Wisdom, Humility, and Truth. Employees aim to model these qualities with each other, within communities, and in everything they do.
Finally, Nòkwewashk is unique reminder for public servants to refresh and nourish themselves. Although sweetgrass loses its scent and medicinal value over time, it can be renewed and nourished when dipped in water. As water is also a sacred element and has great strength to transform, sweetgrass' refreshment from water serves as a reminder to employees to take time to nourish themselves and look after their physical state so that they can continue to transform relationships with Indigenous peoples.